Extend the life of your CPAP mask with replacement cushion
The cushion for the ResMed AirTouch F20 CPAP Full Face Mask may need to be replaced periodically as this will guarantee better performance and it is recommended to be replaced every 30 days. Select the appropriately sized cushion that fits your mask.
Size
The AirTouch F20 is available in three different sizes, with face cushions built to accommodate each size. All size replacement cushions of the AirTouch F20 will fit on any F20 frame as they are all universal in fit. Best of all, if you would rather go with a standard silicone piece of the AirFit F20 cushion then that will fit too.
Interchangeable with ResMed AirFit F20 Full Face Mask Silicone Cushion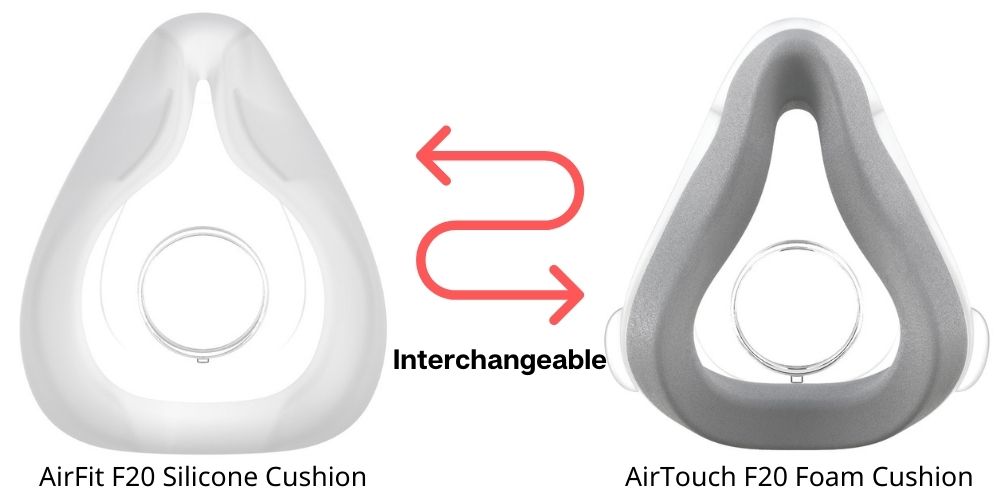 Compatibility
ResMed AirTouch F20 Full Face CPAP Mask
ResMed AirTouch F20 For Her Full Face CPAP Mask
ResMed AirFit F20 Full Face CPAP Mask
ResMed AirFit F20 For Her Full Face CPAP Mask
Reviewers Tip:
Replace your cushion every 30 days or so to ensure that the mask doesn't leak or slip off.
---
FAQ
I bought a replacement mask but can't get it to fit.
The AirFit F20 and AirTouch F20 cushions are interchangeable with the Universal F20 Frame so if it does not fit, please be sure to check and make sure you ordered to proper model cushion for that listed mask. If it is a different model then it will not fit at all.
How often should I replace the cushion?
As long as your mask remains sealed, your cushions are probably in working order. When you notice your cushions start to show deterioration or loss of seal, they need to be replaced, as they will no longer fit around your face and will emit air. This cushion will generally need to be replaced after roughly 30 days of use. This replacement schedule is not your cup of tea? We recommend the traditional F20 Silicone cushion which has a usage life of up to 6 months or longer
---
Technical Data
Model
63029, 63030, 63028
Machine Weight
2.73 oz approx.
Extra Features
Ultra soft memory foam cushion
Reviews (15)
4.7
Based on 15 reviews
01/12/2023
Subject: ResMed AirTouch F20 Full Face CPAP Mask Foam Cushion
I have used Air Touch F20 foam cushions for abot two years. It is the most comfortable mask I have ever used. Until recently I have bought replacement cushions through another online seller. But, it appears that there are now very convincing substandard knock offs from other sellers. The foam was harder, it tore easily and the seal was glued on and did not peel off. I returned it after 2 days for a refund and order 4 from RespShops. I was happy to find that the cushions from RepShop are the original, the quality I expected and competitively priced.
01/19/2023
Subject: Mask
The ResMed F20 touch is a very comfortable mask memory foam to help with the seal even with facial hair.
08/22/2022
Subject: Face mask review
The mask is wonderful. Fits perfect. Very comfortable.
12/29/2022
Subject: Humid X F20
These are an awesome alternative to traveling with a humidifier. The Humid X F20 says it's designed for the Resmed Air Mini, but since the disc fits directly into any F20 mask without any extra hoses or fittings, I will be using it with an Apex XT machine. I imagine, since it is in the mask, that it will work with any machine when a humidity chamber, or distilled water is unavailable.
Also, I received these promptly from Respshop. Great Service.
05/29/2018
On year 5 of CPAP and have tried a variety of masks. The Airtouch F20 works the best as I now sleep through the whole night. Before the silicone mask would leak and wake me. I REALLY like this mask. The price is a bit steep especially replacing it every 30 days. This is by far the best product I've had the opportunity to use for CPAP. Thank You RESMED!
Jennifer W
(Verified Purchase)
12/20/2017
12/20/2017
This is far and away the best mask I have ever had. I had leakage with other masks. I do not with this mask. If you only wear your mouthpiece for one month the foam does not get too nasty. Do not go to bed with make up on else you run the risk of ruining said mask faster. i have found you can clean the foam with a little soap and water.
12/11/2019
Best mask ever for full face. My pressure is high set at 17. Most other masks leaked like crazy always waking me and my wife up. This mask is 9 months old now. I clean it with water every so often and a must is to use the wipes that Respshop has. They smell nice and keep it clean. This is a very comfortable mask.
12/01/2017
No way to clean the foam F20 mask and does not fit a female. Called Resmed, the F20 in pink is for a female and blue is for male but they are identical in size and fit and are now called "unisex". All CPAP masks are made using a male model for head and do not fit females.
01/06/2022
Subject: AirFit F20
I bought this mask to work with my ResMed AirMini because it now has a humidifier tablet adapter to use with the device. it works without water and has served me well my past couple of trips. The mask fits well and has no issues.
03/16/2023
Subject: Resmed F-20 Air Touch
This is the only mask that works for me so far!
I get a great seal, no leaks!
Also, Respshop had been a perfect service provider, 10 out of 10!
No complaints!
Q&As (3)
Have a question on this item? Ask here and we will answer it in 12-24 hours, usually in a few business hours! Questions and answers will appear here after we answer. You may also have email notifications.
Question
Will any F20 cushion fit my AirFit F20 M
Answer
No they would need to be the same size cushion.
Question
How do I attach my air touch cushion to the F20 frame?
Answer
Follow the instructions in this video:
https://www.youtube.com/watch?v=TynURPz654A
Question
What's the difference between the regular and the for her size? I get the regular size M W/foam and find that I have to adjust it on my nose or it feels to tight. Large is too big. And I'm allergic to silicone.
Answer
Hi there, the regular and For Her size is the same. The headgear for the For Her is slightly smaller, so this may not help with your sizing. You may want to consider trying a cloth mask due to your allergy. If you need to refer to the sizing gauge you can view it here for the F20: https://www.respshop.com/manuals/1019789_AirTouch_F20_Fitting_Temp_Web_Inch_Eng.pdf?pdf=1019789_AirTouch_F20_Fitting_Temp_Web_Inch_Eng

We do not currently carry any Cloth full face masks, but we do carry nasal cloth masks which can be used with a chin strap: https://www.respshop.com/cpap-masks/nasal/?tags_id=165
Displaying 1 to 3 (of 3 questions)
Result Pages: 1
Frequently Bought Together