AirTouch F20 Full Face CPAP Mask by ResMed
The ResMed AirTouch F20 Full Face Mask is designed for exceptional comfort and performance. Its innovative memory foam cushion makes the AirTouch F20 the softest mask ResMed has ever designed.

Aside from being extremely soft and comfortable, the AirTouch F20 is also exceptionally user-friendly. It features a quick-release elbow and magnetic headgear clips which make fitting and removing the AirTouch F20 intuitively simple.
Ultrasoft Memory Foam Cushion
CPAP users who are familiar with ResMed's selection of full-face masks may notice that the AirTouch F20 is very similar to the AirFit F20 Full Face CPAP Mask. Both masks use the same frame and headgear, but the key difference between the AirTouch F20 and the AirFit F20 is the full face cushion.

The AirTouch F20 cushion utilizes a memory foam layer rather than silicone to create a comfortable and reliable seal. The ultrasoft memory foam cushion provides a breathable seal that is gentle on the skin and contours to a variety of facial structures for optimal performance at all CPAP pressures.

Unlike silicone cushions, the AirTouch F20 cushion does not need to be washed with soap and water. Simply give the memory foam cushion a wipe with non-alcohol based wipes after use.
Multiple Sizes Available
The AirTouch F20 is available in cushion sizes Small, Medium, and Large. A size gauge is available for you to print out and use as a guide to determine which size would be best suited for you. All sizes come with Standard headgear. Small and Large headgear sizes are available separately.
Plush Headgear, Versatile Frame, Magnetic Clips
The headgear and mask frame is designed for extra comfort and stability, providing you with a better night's sleep. The AirTouch F20 mask frame fits AirTouch F20 and AirFit F20 cushions of ALL sizes.

Like the ResMed AirFit F20, the AirTouch F20 uses magnetic clips to help guide the headgear to the frame. This makes for quick and easy mask adjustments and improves comfort by eliminating bulky buckles that can dig into the skin.

Please note: that magnetic clips are not recommended for CPAP users with pacemakers or other active metallic medical implants.
Quick-Release Elbow and QuietAir Vents
With the ResMed AirTouch F20's quick-release elbow, you can effortlessly disconnect the mask from your CPAP hose without removing the mask entirely. This feature enables you to move around freely during the night, without worrying about taking off the mask and readjusting it when you put it back on. Even better, the quick-release elbow facilitates a swift reconnection of the mask to your CPAP circuit with minimal disruption to your night.

The AirTouch F20 elbow connector also features ResMed's QuietAir Vent technology which helps reduce noise and draft. A ring of exhalation ports on the front of the elbow disperses exhaled air away from you and your bed partner, minimizing draft and noise that can disrupt your sleep.
Interchangeable Cushions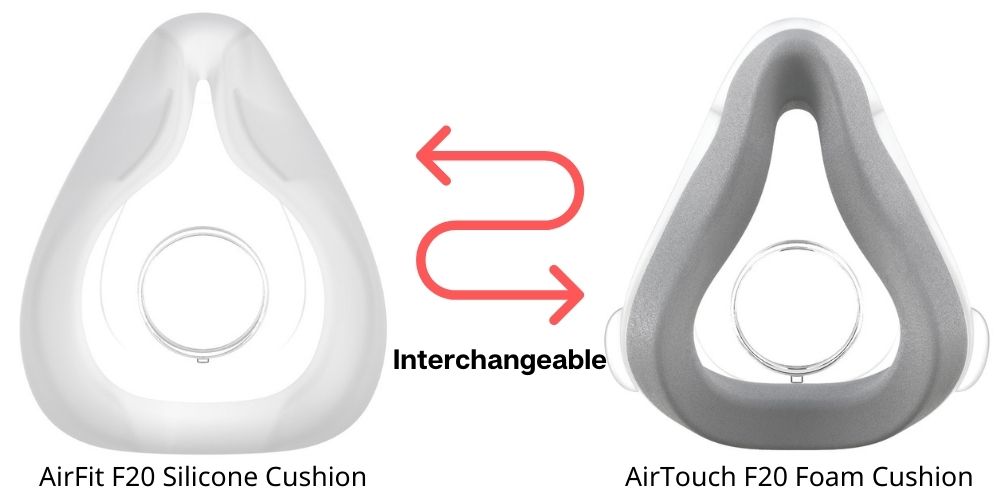 The AirTouch F20 gives you the option to easily switch between the Memory Foam AirTouch F20 Cushion and the Silicone InfinitySeal AirFit F20 Cushion based on your preferences. The silicone AirFit F20 cushion is designed to conform to unique facial structures under various therapy pressures and fits 97% of users, according to a ResMed study.

Regardless of the type of F20 full face cushion selected, it is important to note that the ResMed AirFit/AirTouch F20 CPAP mask is intentionally designed to enhance the mask seal, reduce leaks, and optimize your CPAP therapy.
FAQ
What is the recommended replacement schedule for the ResMed AirTouch F20 mask to ensure optimal performance and hygiene?
We recommend replacing the AirTouch F20 mask cushion every 30 days or when it shows signs of deterioration. This ensures that the AirTouch F20 Full Face Mask continues to provide an optimal seal. The headgear should be replaced every 6 months.
What is the recommended sizing method for the AirTouch F20 mask?
The AirTouch F20 Full Face Mask has a size gauge available to help you find your best-fitting cushion size. The size gauge template can be found in the Size Gauge tab above.
Is the AirTouch F20 compatible with all CPAP machines?
The AirTouch F20 is compatible with CPAP machines of all brands. Please note that if you are using the AirTouch F20 Full Face Mask with the ResMed AirMini Auto Travel CPAP, you will need a ResMed AirMini F20/F30 Setup Pack.
Is the AirTouch F20 recommended for CPAP users with facial hair?
The AirTouch F20's memory foam seal helps the mask stay in place more effectively than silicone masks. However, having facial hair can sometimes make it challenging to achieve a good seal with any CPAP mask. Keeping facial hair trimmed and well-groomed, especially on the areas where the mask cushion comes in contact with your face, will help improve mask seal..
How do I clean the AirTouch F20 mask?
Weekly: headgear, elbow, frame
Daily: cushion
Disassemble the mask.
Wipe the memory foam cushion with CPAP wipes or any non-alcohol based wipes. Do not submerge in water as this will damage the foam.
Soak the headgear, elbow and frame in warm soapy water for up to ten minutes. Please use a mild detergent that is free from moisturizers and harsh chemicals such as bleach.
Scrub the vent holes on the elbow with a soft bristle brush.
Rinse all components thoroughly under running water and squeeze out excess water from the headgear. Lay parts out to air dry away from direct sunlight.
What are the similarities and differences between the AirTouch and AirFit F20?
| | | |
| --- | --- | --- |
| Mask Components | AirFit F20 | AirTouch F20 |
| Frame | One size fits all 3 size cushions | Same AirFit F20 frame |
| Cushion | InfinitySeal silicone | UltraSoft memory foam |
| Elbow | Quick-release hard plastic | Same as the AirFit F20 elbow |
| Headgear | Breathable, comfortable, and stable with magnetic clips | Same AirFit F20 headgear |
Technical Data
Model
63000, 63001, 63002, 63012, 63013, 63014
Warranty
90 days against manufacturer defects
Tube Connection
Front of the face
Headgear Clips and Type
Yes, magnetic clips
Headgear Size with Mask
Standard
Other Headgear Sizes Available
Yes, Small and Large
Other Headgear Styles Available
No
Specifically Designed For Women
No
Cushion Interchangeable with Different Type
Yes, ResMed AirFit F20 Full Face Cushion
Extra Features
Pressure Range: 4-40 cm H2O
Item Includes
Each AirTouch F20 Full Face Mask includes:
Cushion in the selected size: Small (63028), Medium (63029), Large (63030)
Frame
Standard Headgear with Magnetic Clips (63471)
Quick-Release Elbow with Swivel (63494)
Reviews (23)
3.7
Based on 23 reviews
Stephonie W
(Verified Purchase)
02/24/2019
02/24/2019
I was very apprehensive about trying a new cpap mask. I have tried quite the variety over the years and felt like I was never going to find something that was going to work really well. I felt resigned to masks with silicone cushions that leak and don't fit my face well. I am between a medium and a small so I managed with the Quattro Fx. After researching the Airtouch F20 Full Face Mask I decided it was worth the risk. I was so surprised! Night after night I had no leaks. Usually an Fx cushion would last 2 or 3 nights before some leak would develop. I have had this mask for nearly 2 months. I have found that a slight amount of air will escape occasionally but nothing that a little adjusting doesn't fix. I wish that there were a better way to determine if the mask fits prior to purchasing. I am still between a small and a medium for this particular mask. I wish I had gotten the small. The mask is longer from the bridge of the nose to below the mouth and it sits really close to my eyes. It is around the bridge of the nose that if it leaks that is where it happens.
The head gear is much better than the Fx. The Fx fit really close to my ears and the longer I wore the mask the more it would rub there and cause great irritation. The Airtouch F20 headgear doesn't come close to my ears giving me a good fit and less irritation. I hope to use this mask for a good long time. Best one I have tried yet!
Robert S
(Verified Purchase)
05/03/2022
05/03/2022
Subject: ResMed AirTouch F20 Full Face Mask Review
This mask leaks less than the AirFit for me. Note the mask insert cannot be sterilized in an ozone machine or immersed in liquid. ResMed mentions the ozone restriction only on their web site's product page -- not in the care and instruction material in the mask box. I initially placed this mask in a sterilizer, which significantly shortens the useful like of the mask insert. Without ozone exposure, the mask lasts as long as other masks.
03/29/2018
This mask is a challenge! I am a new user, and of the three choices I was given- this one was the only one that would cover my mouth. My mouth tends to open when I sleep. I know that my head is larger than most- but I was given what I was given. The one I tired on at the clinic seemed okay- but this one has to be smaller than I need. For the past two weeks I have worn it- I have woken up with it no longer attached to my head. The Velcro has come loose- or the magnets have popped apart, or it has ridden farther up my face.

The bridge of the nose portion on the face mask is downright painful. Too tight. The mask is so small- that I wake up a lot with the bottom of the mask inside my mouth, Once, I woke up while dreaming I was chewing gum- I was instead chewing the bottom of the mask that was in my mouth.

Cleaning this is a nightmare as well. No indication until I got it home that the foam cushion cannot be cleaned. It needs to be replace every month. Interesting in that as I type this, to the left of the box is a replaceable one for 59.00.

So- I still am not getting the sleep I need.

DO NOT GET THIS MASK UNLESS IT IS SIZED TO YOUR FACE AND HEAD. There is no room for adjustment on the back- and to get it to remotely stay in place- you have to attach it so tight - you will wake up with a horrible headache- even if you don't make it through the night without it coming off.
Mark K
(Verified Purchase)
06/07/2020
06/07/2020
I have been a CPAP patient for more than 15 years and I was excited when I ordered the F20 mask. Unfortunately my excitement did not last long. I use a ResMed AirSense 10 CPAP machine with automatic pressure adjustment. During the first 3 nights the pressure would self adjust to between 15 and 17 cm H2O which was strong enough to cause my mask to lift off of my face. Adjusting the mask straps resulted in either being too loose because of a poor seal or too tight which hurt my face. In either case, the number of sleep apnea events more than doubled. After 5 nights, I stopped wearing the F20 mask and went back to my Philips Respironics Dreamwear nasal mask. The seal became perfect and the number of sleep apnea events dropped below 5.

Thankfully, Respshop has honored their 30 day guarantee. I have been purchasing items from Respshop for a few years and I will continue to do so. Their customer service is the best.
Grant S
(Verified Purchase)
08/02/2017
08/02/2017
This mask feels terrible. Whoever designed this mask must not have a nose. The nose portion of the mask is too narrow and pinches so I can't breath out of my nose. Also, the top part of the mask (the bridge of the nose) feels too long and pushes up in between my eyes. I ordered a large mask and I keep checking to make sure it was the right size because it feels too small. You don't have a lot of room to adjust the straps if you have larger head. The back of the head gear feels too tight and I can't adjust it.

The foam lining does feel nice and soft, but it doesn't matter when your nose is being pinched and the top of the mask is pushing up in between your eyes.

What I do like about this mask is the bottom clip on part. It's magnetized and has a unique clip on system.

I know everyone is different, but this mask feels terrible. I've spent $154.00 on a mask that feels too small and I can't return.
12/20/2020
I am new to CPAP since Oct and have tried multiple masks! I first started with nasal pillows, then to a nasal mask. I had issues with air leaks from my mouth after falling asleep! Chin straps were awful as you feel like your whole face is in a girdle! Finally tried the Dreamwear full face but I did NOT like the noise of the air whooshing through the tubing along the side of my face. I decided to try ONE more mask and the airtouch F20 was my choice. Well, I did NOT regret that decision. I've been using it now for 10 days and not a single air leak! not so with any of my other mask choices! This mask is comfortable. So I give it a 5 star rating! Measurement said a Medium was the size I needed but had to change to a small as the Medium was too large.
Robert G
(Verified Purchase)
05/30/2018
05/30/2018
I have to say after trying almost every mask on the market this is the best one I have ever tried. I have had perfect mask seals from day one. Something that was a major problem from every other silicone mask. Need to be aware of taking care of your memory foam mask differently. For the Memory Foam to last I do not submerge it into waster for washing. I use CPAP mask wipes to clean the mask and wash separately the hose attachment piece and CPAP machine with hypoallergenic no sent soap everyday. I also use a SoClean Sanitize Machine. Always fresh and clean for every use every time. Try it if you have a need of quality, performance and comfort. Your sleep is worth the effort...............................
01/09/2023
Subject: Perfect Mask for Goldilocks
I tried so many different masks before landing on this one, and I haven't looked back since. I have a small mouth/chin and a tall nose/nostrils, so anything with slits for the nose (including the hybrid full face with nose openings) never stayed sealed for me. As a side sleeper and mouth breather who moves a lot, every time I rolled over, masks with a silicone seal would dislodge and I experienced the dreaded "face farts" multiple times every night. This mask is comfortable, seals perfectly all night, doesn't leave marks on my face, and never, ever farts. It is, quite simply, the perfect mask. I hope they never stop making it!
Tammy N
(Verified Purchase)
10/17/2019
10/17/2019
I loved how soft the mask seal was at first. Super comfortable when I tried it on the first time. The seal is so soft that it leaked easily when I moved waking me up often. I could rarely make it through a night without having to take it off so I could get some sleep-defeating the whole purpose. Also, it was so soft that it did not last long. The seal around the bridge of my nose split open pushing the hard plastic into my face wearing the bridge of my nose bloody. I love the soft seal, but there's got to be a way to get the pressure off the bridge of the nose and maintain a seal.
11/02/2021
Subject: Full mask large
The mask is good, makes my mouth get really dry. And the large size does not fit everybody. I need an extra large. I don't understand why you don't make a extra large size.
Hello, I am sorry that the mask is not working they way you expected. Most of the Resmed masks do not come in an xlarge at this time. If you would like to contact our office we would be happy to help you with a new mask. We do have a 30 day mask program we can share with you. Thank you
Q&As (1)
Have a question on this item? Ask here and we will answer it in 12-24 hours, usually in a few business hours! Questions and answers will appear here after we answer. You may also have email notifications.
Question
having trouble. have adjusted humidity but still get dry mouth. 90% fit even after adjusting. cant breath thru my nose only my mouth.
Answer
Do you have a heated tube? You may want to turn the heated tubing down a few degrees to see if that helps, or turning the tube off completely. You can also just switch to a non-heated tube.

If that doesn't work, I would recommend then trying the humidity at max, and the tube temperature at max too to see if that works.
Displaying 1 to 1 (of 1 questions)
Result Pages: 1
Compare Similar Products
Warranty
90 days against manufacturer defects
90 days against manufacturer defects
90 days against manufacturer defects
Tube Connection
Front of the face
Front of the face
Top of the head
Mask Type
Full Face
Full Face
Full Face
Headgear Clips and Type
Yes, magnetic clips
Yes, magnetic clips
Yes, magnetic clips
Headgear Size with Mask
Standard
Standard
One-size-fits-all
Other Headgear Sizes Available
Yes, Small and Large
Yes, Small and Large
No
Other Headgear Styles Available
Specifically Designed For Women
Cushion Interchangeable with Different Type
Yes, ResMed AirFit F20 Full Face Cushion
Yes, ResMed AirTouch F20 Full Face Cushion
No
Frequently Bought Together