AirFit F20 For Her Full Face Mask by ResMed
Designed for comfort and convenience, the ResMed AirFit F20 For Her Full Face CPAP Mask features an enhanced seal, a quick-release elbow, and magnetic headgear clips. Like other masks in ResMed's For Her line, the AirFit F20 For Her comes with stylish lavender accents and smaller-size cushions for women.
InfinitySeal™ Cushion
The AirFit F20 For Her features an InfinitySeal™ cushion specially designed to conform to a wide range of facial features. ResMed reports that the AirFit F20 Full Face Mask fits a whopping 97% of users who have tried it. The AirFit F20 InfinitySeal™ cushion maintains a reliable seal in different sleeping positions at various CPAP pressures for optimal therapy.

The AirFit F20 For Her is available in two cushion sizes: small and medium. Both come with the lavender and gray AirFit F20 For Her Headgear which is slightly smaller than the headgear that comes with the AirFit F20 Full Face Mask.
Magnetic Clips
Fitting the AirFit F20 For Her is simple, thanks to the magnetic clips that guide the headgear to the frame quickly and easily. There's no need to readjust the headgear each time you fit the mask, which means you can spend more time sleeping.

Note: Magnetic clips are not recommended for users with metallic medical implants, such as pacemakers, defibrillators, etc.
Quick-Release Elbow and Diffused Venting
The quick-release elbow on the AirFit F20 For Her lets you quickly disconnect the mask from the CPAP hose without having to remove the mask. This means that if you need to get up during the night, you don't have to worry about taking the mask off and readjusting it when you put it back on. The elbow allows you to quickly reconnect the mask to your CPAP circuit with minimal disruption to your night.

The AirFit F20 For Her elbow also features widespread exhalation ports that disperse airflow away from you and your bed partner. This reduces noise for a better night's rest.
Plush Headgear
The AirFit F20 For Her headgear uses plush, rolled-edge fabric for extra softness and stability.
Soft and Flexible Frame
The ResMed AirFit F20 For Her features a lightweight, flexible frame that sits underneath the eyes and is designed to fit different facial types. It allows for an open field of vision, which is great if you like to watch TV or read in bed.

Note: The AirFit F20 For Her mask frame is compatible with all sizes of AirFit and AirTouch F20 cushions.
Interchangeable AirFit F20 and AirTouch F20 Cushions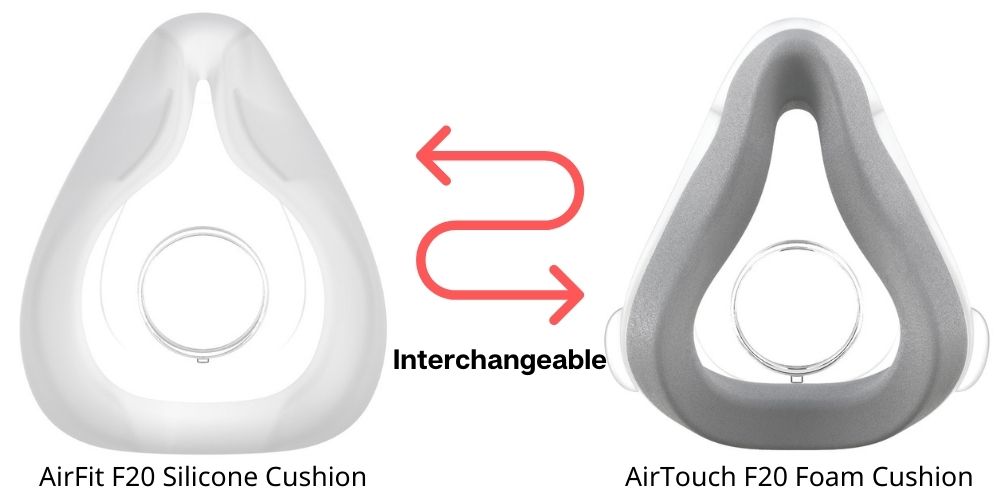 | | |
| --- | --- |
| Cushion Size | Face Height - fit range |
| Small/For Her Small | 2.91 - 3.39 in (74 - 86 mm) |
| Medium | 3.39 - 3.86 in (86 - 98 mm) |
| Large | 3.86 - 4.33 in (98 - 110 mm) |
Technical Data
Model
63403, 63404, 63455
Warranty
90 days against manufacturer defects
Tube Connection
Front of the face
Headgear Clips and Type
Yes, magnetic clips
Headgear Size with Mask
Small (For Her)
Other Headgear Sizes Available
No
Other Headgear Styles Available
No
Specifically Designed For Women
Yes
Cushion Interchangeable with Different Type
Yes, ResMed AirTouch F20 Full Face Cushion
Item Includes
Cushion in the selected size: Small (63467) or Medium (63468))
Frame
For Her Headgear with Magnetic Clips (63473)
Quick-Release Elbow with Swivel (63494)
*The AirFit F20 For Her Frame is compatible with all sizes of AirFit F20 and AirTouch F20 cushions.
Reviews (0)
Share your review with our customers and earn $2.00 worth of points!
Q&As (3)
Have a question on this item? Ask here and we will answer it in 12-24 hours, usually in a few business hours! Questions and answers will appear here after we answer. You may also have email notifications.
Question
I purchased this mask in size small but want to try a medium. Do I have to buy a whole new mask?
Answer
No, not at all. Just order a replacement cushion for the Resmed Airfit F20 for her full face mask as the mask's frame will accept all sizes of the cushion.
Question
how do you know which size to get? I'm a female 5'7' 180 lbs
Answer
Hi there, unfortunately it has more to do with the shape of your facial features when it comes to sizing. Please print off this sizing gauge to determine correct size. Thank you. https://www.respshop.com/manuals/airfit-f20_user-guide_amer_eng.pdf?pdf=airfit-f20_user-guide_amer_eng
Question
Can the purchase of a mask be billed to my insurance company?
Answer
Hello, Yes you may bill this mask to your insurance company by getting an invoice from us. Just ask and we will send it to you. Thank you!
Displaying 1 to 3 (of 3 questions)
Result Pages: 1
Compare Similar Products
Warranty
90 days against manufacturer defects
90 days against manufacturer defects
90 days against manufacturer defects
Tube Connection
Front of the face
Front of the face
Top of the head
Mask Type
Full Face
Full Face
Full Face
Headgear Clips and Type
Yes, magnetic clips
Yes, magnetic clips
Yes, magnetic clips
Headgear Size with Mask
Small (For Her)
Small (For Her)
One-size-fits-all
Other Headgear Sizes Available
Other Headgear Styles Available
Specifically Designed For Women
Cushion Interchangeable with Different Type
Yes, ResMed AirTouch F20 Full Face Cushion
Yes, ResMed AirFit F20 Full Face Cushion
No
Frequently Bought Together