AirFit F20 Full Face CPAP Mask by ResMed
InfinitySeal Cushion
The AirFit F20 InfinitySeal cushion is designed to accommodate a wide range of facial structures and to provide a secure seal under varying pressure levels. The cushion's sophisticated engineering offers significant support around the nose, which effectively reduces the occurrence of disruptive mask leaks and blow-outs, contributing to a better sleep experience. With the AirFit F20 cushion, users can experience a comfortable and effective therapy session, ensuring a good night's sleep.
Plush Headgear and Magnetic Clips
The AirFit F20 headgear is designed for ultimate comfort and stability, no matter the sleeping position. The flexible headgear's four-way adjustable design ensures it stays put all night long, which minimizes readjustments and interruptions to your sleep.

Additionally, the magnetic headgear clips provide an effortless and convenient way to attach the headgear to the frame, making it easy to put on and take off the mask. This feature allows for quick and hassle-free removal and reattachment of the mask without readjusting the headgear, compromising that perfect fit.

Note: If you have a metallic medical implant, such as a pacemaker, defibrillator, etc., we recommend choosing a mask that does not use magnetic clips.
Quick-Release Elbow for Ultimate Convenience
The AirFit F20 Full Face Mask features a specially designed quick-release elbow that offers unparalleled convenience. This innovative feature allows users to disconnect the mask from the CPAP hose without removing the mask itself, providing a hassle-free experience when you need to get up during the night.

Simply squeeze the sides of the quick-release elbow to detach it, along with your CPAP hose, from the front of the AirFit F20. Upon your return to bed, you can quickly reconnect the elbow to the front of the mask by pushing the quick-release elbow in until you hear an audible click. The AirFit F20's quick-release elbow eliminates the need to readjust any straps or components so users can minimize interruptions to their sleep apnea treatment.
Flexible, Open-Faced Frame
Shaped like adaptive wings, the F20 mask frame runs along the cheeks and extends up the sides of the forehead. This innovative design allows ResMed to eliminate the forehead support bar without compromising mask seal, providing users with an open field of view which not only reduces feelings of claustrophobia, but also makes it possible to watch TV or read before bed.
Whisper Quiet Operation
ResMed's F20 CPAP mask features innovative QuietAir Vent technology which reduces operation noise to an impressively low 21 decibels that is truly "whisper quiet." A ring of small ports on the mask's quick-release elbow gently disperses exhaled air away from the user and bed partner, minimizing noise and draft to prevent unpleasant awakenings.
Multiple Headgear and Cushion Sizes Available
The ResMed AirFit F20 Full Face Mask is available in three cushion sizes - Small, Medium and Large. All three cushion sizes come with a Standard sized headgear. ResMed also offers Small and Large headgear sizes which are available separately.

First-time AirFit F20 users should consider using the AirFit F20 Sizing Gauge to determine their cushion size as CPAP mask cushion sizes are not identical across manufacturers. The Sizing Gauge can be found under the "Size Gauge" tab on this webpage. For accurate sizing, please ensure the Sizing Gauge is printed to scale and the measurement is taken with the aid of a mirror or a second pair of eyes.
Interchangeable Cushions
The AirFit F20 Full Face Mask is also compatible with ResMed's AirTouch F20 Memory Foam Cushion which offers a light, breathable seal and ultra-soft performance.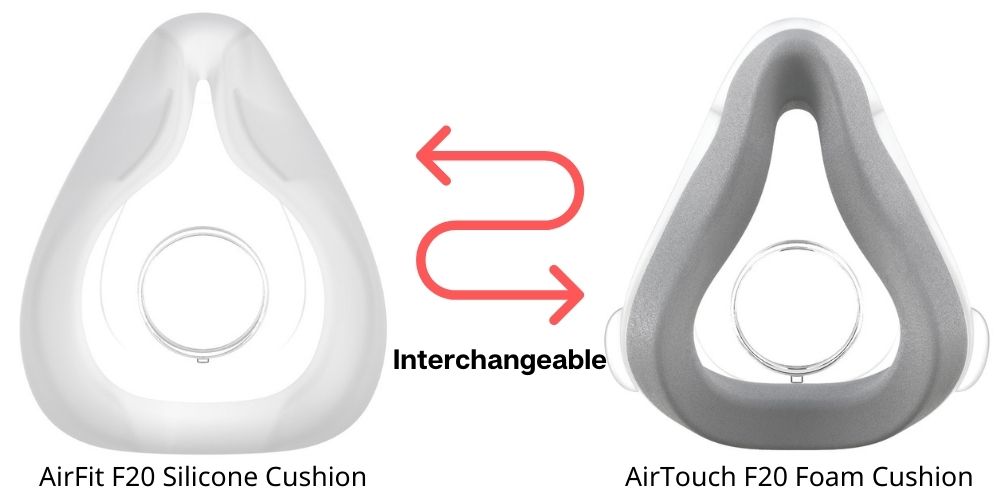 Note: The AirFit F20 Mask Frame is compatible with all sizes of AirFit/AirTouch F20 Cushions.
FAQ
How often should I replace the AirFit F20 Full Face Mask?
The F20 mask frame, elbow and headgear should be replaced every 6 months while the AirFit F20 silicone cushion should be replaced every 2 to 3 months. We encourage more frequent cushion replacements compared to other mask parts because the silicone softens with use (i.e., from contact with face oils, dead skin cells etc.) which inevitably compromises mask seal.
How do I clean the ResMed AirFit F20 mask?
Daily: cushion
Weekly: frame, elbow, headgear

Disassemble the mask before cleaning and hand wash all parts with mild soap and water. Use a soft bristle brush to gently scrub the vent ports on the quick-release elbow. Rinse each part thoroughly under running water and air dry away from direct sunlight. Squeeze excess water out from the headgear before laying it flat to air dry.

Regular mask cleaning helps control bacterial growth and prolongs the lifespan of the silicone cushion. CPAP wipes can be used in place of soap and water for quicker, hassle-free mask maintenance.
How do I determine what size cushion I need for the AirFit F20 mask?
Please use the Sizing Gauge that is available under the "Size Gauge" tab above to determine your cushion size.
How do I disassemble/assemble the AirFit F20 mask?
Disassembly:
Remove the elbow from the frame.
Unclip the magnetic clips from the frame.
Undo upper and lower headgear tabs.
Pull the headgear away from the frame and slide the magnetic clips off the headgear straps.
Pull the cushion away from the frame by holding the frame in one hand and the hard plastic portion of the cushion in the other. If your mask has never been disassembled, you will need to exert some force to pull the cushion off.
Assembly:
Attach the cushion to the frame by lining up the circular opening on the cushion to the frame and pushing until the pieces are connected.
Thread the magnetic clips onto the bottom headgear straps. Fold over the straps to secure the Velcro.
Thread the upper headgear straps through the slots in the frame. Fold the Velcro tabs over to secure.
Push the elbow into the front of the mask until an audible click is heard.
What is the difference between the AirFit F20 and AirTouch F20 masks?
| | | |
| --- | --- | --- |
| Mask Components | AirFit F20 | AirTouch F20 |
| Frame | One size fits all 3 size cushions | Same AirFit F20 frame |
| Cushion | InfinitySeal silicone | UltraSoft memory foam |
| Elbow | Quick-release hard plastic | Same as AirFit F20 elbow |
| Headgear | Breathable, comfortable, and stable with magnetic clips | Same as AirFit F20 headgear |
Technical Data
Model
63400, 63401, 63402, 63450
Warranty
90 days against manufacturer defects
Tube Connection
Front of the face
Headgear Clips and Type
Yes, magnetic clips
Headgear Size with Mask
Standard
Other Headgear Sizes Available
Yes, Small and Large
Other Headgear Styles Available
No
Specifically Designed For Women
No
Cushion Interchangeable with Different Type
Yes, ResMed AirTouch F20 Full Face Cushion
Extra Features
Pressure Range: 4-40 cm H2O
Item Includes
AirFit F20 Full Face Mask in the selected size includes:
Frame
Standard Headgear (63471)
1 pair of Magnetic Headgear Clips (63475)
Quick-Release Elbow with Swivel (63494)
Cushion in the selected size: Small (63467), Medium (63468) or Large (63469)
User Manual
Reviews (37)
4.2
Based on 37 reviews
04/25/2021
I was long time user of the AirFit F10 full face, but I decided to upgrade to the F20 since it had some features I wanted to try. Immediately, I find the F20 to be a big upgrade and it's a very good mask. It fits well and feels comfortable, and I have no complaints to speak of.

The big reason I wanted to upgrade from the F10 is that the F20 adds magnetic clips to the bottom two straps. I can't stress how big of an addition this was, and how much easier it makes life. Probably the biggest part of getting great feel and performance from a mask is finding the perfect tightness on the straps. With the F10 however, you have to undo the bottom straps each morning, which means you're changing the adjustment each time you take the mask off. Now, with magnetic clips, you just pull them off and your straps haven't changed tightness at all. I've been getting consistent performance from this mask thanks to that, with no leakage issues to speak of.
Another big boon of the F20 over the F10 is that it's a universal frame size now. The F10 had two different sizes I believe, which means you had to keep track of that alongside your cushion size. That's no longer a problem.

Other than that huge addition, the F20 is very similar to the F10, which is a good thing. The headgear is still light and comfortable, holding onto my head well. No problems at all adjusting them to get an ideal fit. Cushion is still great too, it's not quite the same as the F10 but it performs amazingly. The seal inflates well against my face and has no leakage issues. Just make sure not to tighten the mask too much, as you want the seal to fill in the gaps a little.

The hose still has the quick release elbow which is fantastic, since you can disconnect from your machine very quickly. It keeps the ring of vents too, so the air flow out is quiet and non-disruptive. Of course, as standard on the AirFit masks, there's no bridge/forehead portion, which means you can wear glasses and have an unobstructed line of sight. Great for anyone like me who enjoys reading in bed.

The F20 is a great mask that takes all the best parts of the F10 and adds on some great convenience features. With the addition of the magnetic clips, I feel fully satisfied with this mask and I don't imagine I'll be changing masks any time soon. I would highly recommend to anyone on F10 looking to upgrade, or just to anyone looking for a great full face mask.
05/05/2017
Hi I originally panned the F20 after one night of trying it out, but since then have found that, if adjusted properly, it is less likely to leak than any other mask I have tried, and I have many unused masks. I use a Bipap AVAPS machine and recently travelled overseas for a few weeks, taking both my F10 and F20, thinking that I would use the F10 mostly, but after a few days of travel realised that the F20 gives a better seal, is more comfortable and the straps are more reliable and less likely to rub. I have tried many masks including nasal masks, pillows and full face masks. As I suffer from COPD, lung caner and sinus problems I can only use a full face mask and this is the best I have found so far.
01/13/2020
I have tried many of the full-face masks available. I've not been happy with many of the masks I tried, probably because I sleep on my side - I think that makes it even harder to get a good mask seal. I really wanted to like the hybrid masks (under the nose style) but I couldn't get them to stop leaking. And of the masks that I could use, I find the AirFit F20 works best for me. The mask stays in place and seals very well. The hose attachment swivels effortlessly, and the air flow out of the mask is diffuse and silent. The cushion is easy to clean and replace, and I like the straps and fittings.
03/25/2022
Subject: A great upgrade!
Most of the full face masks I've used in the past have leaked around my nose and eyes. This is the first full face mask I've ever had where it has not been a problem. It is so much more comfortable than my last mask, which was a nasal and mouth pillow combination. It's easy to put together at night, and in my experience it feels low profile on my head. All together, I've had a great experience with it.
04/08/2022
Subject: Best full face mask out there
This man is soo comfortable no air leaks fits low profile soo you don't feel that smothering feeling , easy to read phone or book while wearing
04/13/2018
I work at a DME provider and with this mask the key is to not over tighten the headgear. Once you get a good seal adjust it then and let the cushion take over. If you can't run a finger between your headgear and your skin it's too tight and could cause leaks. Also make sure you are sized correctly. All masks run different. You may run a small in a Respironics but need a medium Resmed. I personally use this mask myself and have tried most mask just so I can tell my patients what to expect. This mask and the Amara View are my highest recommended for a full face mask.
01/11/2023
Subject: F20 full face mask
This f20 full face mask is great when the air on your CPAP machine needs to be cranked up. With the full face mask you have less air leakage than with a half mask or nose mask. I highly recommend this mask because my doctor took my air up to 13 and air kept leaking around my mask. The full face mask solved the problem for me.
05/23/2020
I was using the Amara fullface mask, but I had constant problems with leaking.
My husband recommended me to switch to the AirFit F20, and it has been awesome. The leaking issues stopped, and the mask is way more comfortable than the other one. A great buy!
07/28/2021
Subject: airfit mask review
This is my first airfit mask but I like it a lot. I bought the f20 full face model and it has a very good seal when I sleep. Breathing very well and the headgear is also comfortable.
05/05/2021
I heard really good things about AirFit masks from a friend, who used a nasal mask. However, I'm more of a mouth breather so I wanted a nasal mask and settled on the F20. So far, I can say it's excellent in both build and performance.
The materials all feel very good, the straps on this one feel stronger than the straps I've had on past masks. On those masks, the straps would stretch out over time and fail to hold on to my head well. I don't think I'll have that problem with the F20 as the straps feel like they'll hold their shape much longer.
Cushion material feels nice too, it's nice and supple and seems to conform to the curves of my face quite well. Really solid seal and I haven't had any problems with pain/red lines. It's easy to disconnect the hose from the air feed which is always convenient and the design of the mask keeps my eye line mostly open.
If you're looking for a good full-face mask with all the cutting edge features, I would recommend the F20.
Q&As (7)
Have a question on this item? Ask here and we will answer it in 12-24 hours, usually in a few business hours! Questions and answers will appear here after we answer. You may also have email notifications.
Question
I just started wearing a Fisher/Paykel Evora full faced mask and though I was totally unaware of the mask seal/cushions, the fabric items that can be used to increase the seal and therefore the comfort of the mask I didn't see that there was an item number for the F/P Evora mask. Do you think that you could help me out and find some of them for me? I would certainly appreciate that. My face is pretty sore because the part behind the seal is a very hard plastic and the left side of my face has a small hole worn into it so last night I put a band aid on it. This morning I grabbed my soldering torch and warmed the plastic up enough to bend it away from my face. (I tried boiling water, but couldn't get it hot enough.) I will go ahead and purchase a cushion for a F/P full face mask. Hopefully it will seal better than the original one.
Answer
The cushions for the Evora full face mask are part numbers 400EVF114, 400EVF115, and 400EVF116 and can be found here: https://www.respshop.com/cpap-masks/parts/cushions-pillows/full-face/fisher-paykel-cushion-for-evora-full-face-cpap-mask-p-1749.html

The headgear straps for the Evora full face mask are part numbers 400EVF121 and 400EVF122 and can be found here: https://www.respshop.com/cpap-masks/parts/headgears/full-face/fisher-paykel-headgear-for-evora-full-face-cpap-mask-p-1750.html
Question
Does this mask make you feel claustrophobic?
Answer
Everyone's response to a full face mask is different. That is why there are so many to choose from. Give us a call and we will be happy to discuss masks with you.
Question
What is the difference in size for ResMed small Airfit 20 and the small Airfit 20 for her?
Answer
For Her masks have a slightly smaller headgear and are a different color.
Question
Will this fit my airsense 10
Question
I'm having it very very hard to find a full face mask I can wear. I love the Airfit 20 ( memory foam) but I need an XS.
Where can I find a mask that would work as well
Thank you
Answer
I am sorry this mask only comes in a small. There is not an xsmall at this time available.
Question
How are the straps attatched to the mask, I have a full mask and the clips, clip on and sometimes my hands don't work too well,,
Answer
Here is a great video that will show how to put the mask headgear together. https://youtu.be/79oepq4iyKU Thank you
Question
I use AirFit F20 full face mask. During sleep there is air leak which in turn leads to very parched dry mouth, I believe, and disrupts sleep. Would AirTouch with foam mitigate or eliminate this problem? Thank you.
Answer
Hi there, if you are already wearing a full face mask the airtouch would not mitigate leak. It helps with sensitive skin. I would suggest a few things. Ensuring the mask is being washed. Ensure the mask size is correct, the top of the mask should sit on the bridge of your nose and the bottom of the mask just under your lower lip. If you do have facial hair you want to ensure that you are shaving, facial hair will not create a seal on the face. Also ensure the mask is adjusted and tightened evenly around, you want to be able to fit two fingers under your strap and if you cant it might be too tight.
Displaying 1 to 7 (of 7 questions)
Result Pages: 1
Compare Similar Products
Warranty
90 days against manufacturer defects
90 days against manufacturer defects
90 days against manufacturer defects
Tube Connection
Front of the face
Front of the face
Front of the face
Mask Type
Full Face
Full Face
Full Face
Manufacturer
ResMed
Fisher & Paykel
ResMed
Headgear Clips and Type
Yes, magnetic clips
Yes, nonmagnetic clips
None
Headgear Size with Mask
Standard
Medium/Large
Standard
Other Headgear Sizes Available
Yes, Small and Large
Yes, Small
Yes, Large
Other Headgear Styles Available
Specifically Designed For Women
Cushion Interchangeable with Different Type
Yes, ResMed AirTouch F20 Full Face Cushion
No
No
Frequently Bought Together