AirTouch F20 Full Face CPAP Mask by ResMed
The ResMed AirTouch F20 Full Face Mask is designed for exceptional comfort and performance. Its innovative memory foam cushion makes the AirTouch F20 the softest mask ResMed has ever designed.

Aside from being extremely soft and comfortable, the AirTouch F20 is also exceptionally user-friendly. It features a quick-release elbow and magnetic headgear clips which make fitting and removing the AirTouch F20 intuitively simple.
Ultrasoft Memory Foam Cushion
CPAP users who are familiar with ResMed's selection of full-face masks may notice that the AirTouch F20 is very similar to the AirFit F20 Full Face CPAP Mask. Both masks use the same frame and headgear, but the key difference between the AirTouch F20 and the AirFit F20 is the full face cushion.

The AirTouch F20 cushion utilizes a memory foam layer rather than silicone to create a comfortable and reliable seal. The ultrasoft memory foam cushion provides a breathable seal that is gentle on the skin and contours to a variety of facial structures for optimal performance at all CPAP pressures.

Unlike silicone cushions, the AirTouch F20 cushion does not need to be washed with soap and water. Simply give the memory foam cushion a wipe with non-alcohol based wipes after use.
Multiple Sizes Available
The AirTouch F20 is available in cushion sizes Small, Medium, and Large. A size gauge is available for you to print out and use as a guide to determine which size would be best suited for you. All sizes come with Standard headgear. Small and Large headgear sizes are available separately.
Plush Headgear, Versatile Frame, Magnetic Clips
The headgear and mask frame is designed for extra comfort and stability, providing you with a better night's sleep. The AirTouch F20 mask frame fits AirTouch F20 and AirFit F20 cushions of ALL sizes.

Like the ResMed AirFit F20, the AirTouch F20 uses magnetic clips to help guide the headgear to the frame. This makes for quick and easy mask adjustments and improves comfort by eliminating bulky buckles that can dig into the skin.

Please note: that magnetic clips are not recommended for CPAP users with pacemakers or other active metallic medical implants.
Quick-Release Elbow and QuietAir Vents
With the ResMed AirTouch F20's quick-release elbow, you can effortlessly disconnect the mask from your CPAP hose without removing the mask entirely. This feature enables you to move around freely during the night, without worrying about taking off the mask and readjusting it when you put it back on. Even better, the quick-release elbow facilitates a swift reconnection of the mask to your CPAP circuit with minimal disruption to your night.

The AirTouch F20 elbow connector also features ResMed's QuietAir Vent technology which helps reduce noise and draft. A ring of exhalation ports on the front of the elbow disperses exhaled air away from you and your bed partner, minimizing draft and noise that can disrupt your sleep.
Interchangeable Cushions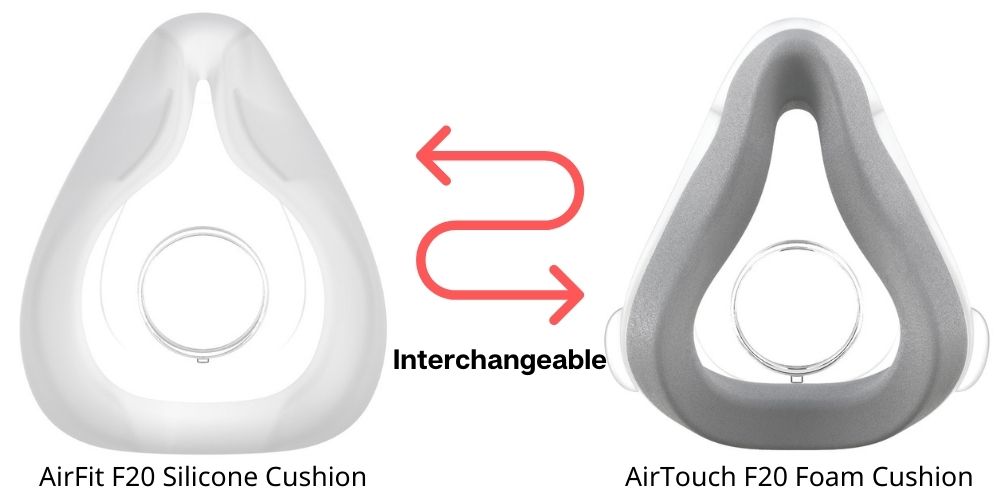 The AirTouch F20 gives you the option to easily switch between the Memory Foam AirTouch F20 Cushion and the Silicone InfinitySeal AirFit F20 Cushion based on your preferences. The silicone AirFit F20 cushion is designed to conform to unique facial structures under various therapy pressures and fits 97% of users, according to a ResMed study.

Regardless of the type of F20 full face cushion selected, it is important to note that the ResMed AirFit/AirTouch F20 CPAP mask is intentionally designed to enhance the mask seal, reduce leaks, and optimize your CPAP therapy.
FAQ
What is the recommended replacement schedule for the ResMed AirTouch F20 mask to ensure optimal performance and hygiene?
We recommend replacing the AirTouch F20 mask cushion every 30 days or when it shows signs of deterioration. This ensures that the AirTouch F20 Full Face Mask continues to provide an optimal seal. The headgear should be replaced every 6 months.
What is the recommended sizing method for the AirTouch F20 mask?
The AirTouch F20 Full Face Mask has a size gauge available to help you find your best-fitting cushion size. The size gauge template can be found in the Size Gauge tab above.
Is the AirTouch F20 compatible with all CPAP machines?
The AirTouch F20 is compatible with CPAP machines of all brands. Please note that if you are using the AirTouch F20 Full Face Mask with the ResMed AirMini Auto Travel CPAP, you will need a ResMed AirMini F20/F30 Setup Pack.
Is the AirTouch F20 recommended for CPAP users with facial hair?
The AirTouch F20's memory foam seal helps the mask stay in place more effectively than silicone masks. However, having facial hair can sometimes make it challenging to achieve a good seal with any CPAP mask. Keeping facial hair trimmed and well-groomed, especially on the areas where the mask cushion comes in contact with your face, will help improve mask seal..
How do I clean the AirTouch F20 mask?
Weekly: headgear, elbow, frame
Daily: cushion
Disassemble the mask.
Wipe the memory foam cushion with CPAP wipes or any non-alcohol based wipes. Do not submerge in water as this will damage the foam.
Soak the headgear, elbow and frame in warm soapy water for up to ten minutes. Please use a mild detergent that is free from moisturizers and harsh chemicals such as bleach.
Scrub the vent holes on the elbow with a soft bristle brush.
Rinse all components thoroughly under running water and squeeze out excess water from the headgear. Lay parts out to air dry away from direct sunlight.
What are the similarities and differences between the AirTouch and AirFit F20?
| | | |
| --- | --- | --- |
| Mask Components | AirFit F20 | AirTouch F20 |
| Frame | One size fits all 3 size cushions | Same AirFit F20 frame |
| Cushion | InfinitySeal silicone | UltraSoft memory foam |
| Elbow | Quick-release hard plastic | Same as the AirFit F20 elbow |
| Headgear | Breathable, comfortable, and stable with magnetic clips | Same AirFit F20 headgear |
Technical Data
Model
63000, 63001, 63002, 63012, 63013, 63014
Warranty
90 days against manufacturer defects
Tube Connection
Front of the face
Headgear Clips and Type
Yes, magnetic clips
Headgear Size with Mask
Standard
Other Headgear Sizes Available
Yes, Small and Large
Other Headgear Styles Available
No
Specifically Designed For Women
No
Cushion Interchangeable with Different Type
Yes, ResMed AirFit F20 Full Face Cushion
Extra Features
Pressure Range: 4-40 cm H2O
Item Includes
Each AirTouch F20 Full Face Mask includes:
Cushion in the selected size: Small (63028), Medium (63029), Large (63030)
Frame
Standard Headgear with Magnetic Clips (63471)
Quick-Release Elbow with Swivel (63494)
Reviews (23)
3.7
Based on 23 reviews
01/01/2020
Initially, the mask is tight around the nostrils making it difficult to breathe through your nose. After a few days, the foam begins to break in, contouring your facial structure perfectly. No leaks and most importantly, I don't accumulate excessive natural oils around the top region of my nose from humidity. I have a longer face structure, as I am very tall. I highly recommend this mask.
sargent s
(Verified Purchase)
07/29/2018
07/29/2018
This mask works very well I tend to have allergic reaction to silicone I do not have allergic reaction at all with the memory foam and I am all so not a clean shaver so it works well for that as well only complaint is mask is a large it could use a little more length and a little more with the nose area
02/05/2022
Subject: air touch f20
The AirTouch F20 is a hit! It seals good around my moustache and doesn't flatten it like my AirTouch N20 nasal mask did. I liked that too but this is better. Highly recommend it!
08/24/2018
I I liked it until I discovered the mask is defective. After 3 months the silicone cracks and it won't seal. I've replaced the mask 3 times with the same issue.
12/22/2018
I have used a variety of CPAP machines and masks. This one by far is the best with no leaks! Fits me great! www.mikedubose.com
12/07/2022
Subject: Mask
Wasn't sure I wanted to buy from the cheapest site . But did . Couldn't have been more pleased that I took a chance .
06/19/2019
Mask is a 5.. Headgear a 3. VELCRO does not hold good. Always comming loose. Fix the VELCRO... Love the mask tho.
01/19/2020
I have tried many masks but the F/20 Airtouch is awesome. This mask is so comfortable I hate to take it off,
James J
(Verified Purchase)
02/17/2019
02/17/2019
ResMed AirTouch F20 Full Face CPAP Mask was new OEM in the box. Works well and is very comfortable to wear.
12/10/2017
I love it . Fits my face like a glove and is super easy to maintain. Have used it for three weeks!.
Q&As (1)
Have a question on this item? Ask here and we will answer it in 12-24 hours, usually in a few business hours! Questions and answers will appear here after we answer. You may also have email notifications.
Question
having trouble. have adjusted humidity but still get dry mouth. 90% fit even after adjusting. cant breath thru my nose only my mouth.
Answer
Do you have a heated tube? You may want to turn the heated tubing down a few degrees to see if that helps, or turning the tube off completely. You can also just switch to a non-heated tube.

If that doesn't work, I would recommend then trying the humidity at max, and the tube temperature at max too to see if that works.
Displaying 1 to 1 (of 1 questions)
Result Pages: 1
Compare Similar Products
Warranty
90 days against manufacturer defects
90 days against manufacturer defects
90 days against manufacturer defects
Tube Connection
Front of the face
Front of the face
Top of the head
Mask Type
Full Face
Full Face
Full Face
Headgear Clips and Type
Yes, magnetic clips
Yes, magnetic clips
Yes, magnetic clips
Headgear Size with Mask
Standard
Standard
One-size-fits-all
Other Headgear Sizes Available
Yes, Small and Large
Yes, Small and Large
No
Other Headgear Styles Available
Specifically Designed For Women
Cushion Interchangeable with Different Type
Yes, ResMed AirFit F20 Full Face Cushion
Yes, ResMed AirTouch F20 Full Face Cushion
No
Frequently Bought Together