ResMed AirFit P10 For Her Nasal Pillow CPAP Mask: Lightweight and Quiet
Weighing just 1.7 ounces, the AirFit P10 For Her Nasal Pillow Mask from ResMed is 50% lighter than older models of its kind. It boasts the same lightweight design and quiet operation as the ResMed AirFit P10 Nasal Pillow Mask but comes with a smaller headgear and an Extra Small nasal pillow instead of a Large.

Although the AirFit P10 For Her is one of the lightest CPAP masks in its class, it is still extremely durable. ResMed engineers stretched the short tubing in front of the mask over 150 times to determine its strength. This test proved that the ResMed AirFit P10 For Her is as sturdy as it is lightweight.

Like the regular AirFit P10 Nasal Pillow Mask, the ResMed AirFit P10 For Her is extremely quiet, thanks to the QuietAir mesh vent. Its design minimizes noise and gently disperses air away from you and your bed partner.
User Friendly
Designed to make CPAP therapy easier than ever, the ResMed AirFit P10 For Her Nasal Pillow Mask is one of the first to feature an attached nasal pillow that simply pops in and out of place.

To achieve the perfect fit, pull the upper and lower headgear bands apart to loosen and pull them together to tighten. Pull the headgear through the QuickFit headgear clip to fix the band length once you've adjusted it.
Sleep Longer
ResMed conducted independent studies with the AirFit P10 CPAP Mask and discovered that users who wore the AirFit P10 Nasal Pillow Mask slept for longer intervals.

The users in the study slept more than forty minutes longer than usual per night. An extra five hours of sleep a week can drastically improve both your energy and overall well-being.
How to Tell the Nasal Pillow Size
Each ResMed AirFit P10 For Her Nasal Pillow Mask comes with three sizes of nasal pillows for your sizing convenience.
Extra Small = 62930 (Pink Color Coded Cushion)
Small = 62931 (Clear Color Coded Cushion)
Medium = 62932 (Gray Color Coded Cushion)
Reviewer's Tip
Make sure to wash your AirFit P10 For Her nasal pillows every day to help control harmful bacteria buildup. Use mild soap, warm water, and a soft bristle brush to clean the nasal pillows. The headgear and mask frame should be washed weekly.
Introducing the ResMed AirFit P10 Nasal Pillow CPAP Mask
FAQ
How often do I need to replace the nasal pillows?
To control bacterial growth, you should aim to replace your ResMed AirFit P10 For Her nasal pillows every 3 months. The silicone material softens over time, so replacing your nasal pillows regularly ensures you will continue to have the best seal.
Can I try any similar masks?
Yes, the ResMed Swift FX For Her Nasal Pillow CPAP Mask is a similar mask also designed specifically for CPAP users with smaller features. It is, however, an earlier model and heavier in weight than the AirFit P10 For Her Nasal Pillow Mask.
Review By Patty M. CPSGT
Certified Polysomnographic Technician for RespShop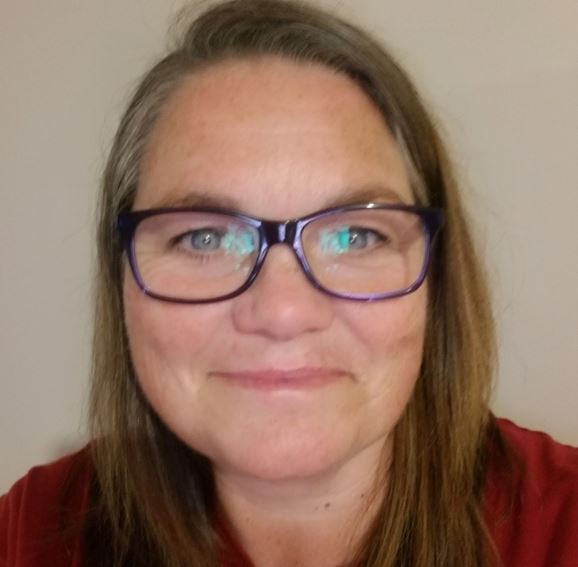 Often, the largest hurdle for someone diagnosed with OSA (obstructive sleep apnea) is the thought of wearing a mask while they sleep. This fear can stop some people from even starting therapy for their sleep apnea.

Masks have come a long way over the years with manufacturers really considering the user and all the emotional reactions that come with being diagnosed with obstructive sleep apnea.

Introducing the ResMed AirFit P10 CPAP Mask

This lightweight mask, with its simple headgear, takes all the anxiety away. The easy on-and-off action keeps all the feelings of claustrophobia at bay. This quiet mask allows for all sleep positions while still maintaining a good seal.

The pillow cushion can be easily removed for cleaning, and it is labeled L and R for the left and right nostrils to ensure the correct positioning of the cushion when you put the mask on.

My clients cannot believe how easily they adjusted to CPAP therapy because of this mask. Less is just better sometimes. To quote one of my clients:

"The P10 helped me get past the worry of wearing a mask while I slept. It was so light, I forgot I had it on. One full night with therapy, and I felt like a new person!"
Technical Data
ResMed AirFit for Her CPAP Nasal Pillow Mask Product Guide

Download
Warranty
90 days against manufacturer defects
Tube Connection
Front of the face
Headgear Clips and Type
None
Headgear Size with Mask
One-size-fits-all
Other Headgear Sizes Available
No
Other Headgear Styles Available
No
Specifically Designed For Women
Yes
Cushion Interchangeable with Different Type
No
Extra Features
Pressure Range: 4-20 cm H2O
Item Includes
The ResMed AirFit P10 For Her Nasal Pillow Mask includes:
Frame and Short Tube Assembly
Three Nasal Pillow Cushions in sizes XS (62930), S (62931), M (62932)
Pink For Her QuickFit Headgear (62936)
Reviews (17)
4.5
Based on 17 reviews
Trisha M
(Verified Purchase)
07/20/2023
07/20/2023
Subject: Resmed P10 for Her
When I was first diagnosed with obstructive sleep apnea I was terrified. Not only was I having obstructive breathing episodes but I was certain I would never be able to sleep with a mask on. I was sure I would not be able to tolerate CPAP therapy and my health was going to suffer because of it. I found Respshop and began to read all the information on their website and I watched some videos on Youtube. I knew I needed to find a way to use therapy. Respshop listened to my concerns about wearing a mask and then suggested the Resmed P10 for her nasal pillow mask. Wow! I thought a mask meant my entire face. I immediately felt better. The mask arrived with all sized pillow cushions included. I was able to try them all and work out which size felt the most comfortable and gave the best seal. The mask frame sits up and does not even touch my top lip. The soft single strap headgear slides easily over my head. When I adjust the straps at the back of my head, it alters the angel of the nasal pillow cushion. So simple. I can remove it quickly and easily and that was important to me as I thought the mask would trigger my claustrophobia. I was worried about cleaning the mask and everything I read about staying on top of bacteria. The P10 is so easy to keep clean. I also appreciate the For Her version as I am a petite person. The color made me happy too. I highly recommend the P10 For Her mask.
10/01/2020
Most comfortable mask I have ever used. Allows me to sleep without interruption. I give it a bad rating for only one reason. The elastic strap stretches out on the area on the side of the face and in front of the ears. The reason for this stretch out is that the strap material gets caught on the point plastic stiffener inside the material as it the material compresses. I have tried every method of extending the strap service life beyond about 5 weeks with little to no success. The elasticity of the material is very comfortable but there needs to be some way of preventing the material from being caught on the plastic stiffener. I would purchase a new strap, but the price of these is ridiculous for the product sold. In fact, the price of the entire nose pillow mask at nearly $100 is way over priced for the product. This review applies to most all of the RESMED nose pillow masks. I believe it is planned obsolescence.

Hi, thank you for letting us know! Please give us a call so we can get this fixed for you. RESPSHOP.COM 866-936-3754
09/07/2021
Subject: P10
The P10 is amazing! No noticeable leaks / slipping throughout the night. It's a light and comfortable mask.
I used to pad the straps on my old masks because I hated the marks on my face in the morning and the discomfort of the straps digging into my face at night. I haven't had to do that with this mask because it fits so well. This mask also doesn't ruin your hair in the morning. My mornings are so much more relaxing now that I don't have to worry about those things.
My husband used to complain about sound of my old mask and would refuse to sleep in the same bed with me. But ever since I switched to this mask, he has started sleeping with me again. The exhale doesn't get everywhere and isn't too loud.
5/5 would recommend.
Holli V
(Verified Purchase)
12/17/2015
12/17/2015
This is my first experience with a CPAP mask and I am very pleased. When I first learned that I was going to need a CPAP to treat my sleep apnea, I knew that I was going to have difficulty adjusting to wearing a mask while I slept. During my sleep study, I wore the AirFit TM P10 for Her CPAP Nasal Pillow Mask with Headgear and was surprised to find it to be very comfortable and easy to adjust to. I immediately knew this was the mask for me! The headgear fits comfortably and stays in place. The pillow mask is small and provides good pressure and airflow.
08/20/2014
I have tried few different masks but this one is just perfect in every aspect. Very light weight and for myself since I like sleeping on my side and don't really want anything on my face or head when I sleep this is the perfect masks and fit for my head. Nasal pillow is also very soft and comfortable, they also come in different sizes. Headgear can be replace if needed. Over all, im very happy with your product and I would be happy to recommend this to my friends and family with sleep apnea.
05/08/2020
I was terrible at using my CPAP machine until I discovered P10 for women. It has contributed to my enjoyment of using my machine nightly. I don't even take a nap wo using my machine. I am happy with my automatic machine and this mask. It makes the difference between me using it or NOT using it. I love this mask. Thanks, Res Med and Respshop.
For Better Health,
Gerrie Lewis
08/13/2014
Definitely exceeded my expectation on this mask. Ive used many different nasal pillow masks in the past and I have never used anything in my life such a nice fit, so light just barely touching my and it feels wonderful. I love the pink color and I where the size small and I'm going to highly recommend this mask to my girlfriends! ;)
Yronelly D
(Verified Purchase)
05/13/2017
05/13/2017
The best nasal pillow, very light and comfortable. My skin is very sensitive and the mask that used before left bruise in my nose skin, now I don't have any problem. I'm happy!!
06/18/2018
The best thing about this mask is that it doesn't cover my face. It is easy to put on, fits well and stays in place without leaking. I like it!
11/26/2021
Subject: Recent Order
I don't really like it. It makes a loud hissing noise when using it. Sometimes it just stops working in the middle of the night
Sorry to hear that! We do have the mask assurance program if you purchased within 30 days. Give us a call and we will be happy to help you.
Q&As (1)
Have a question on this item? Ask here and we will answer it in 12-24 hours, usually in a few business hours! Questions and answers will appear here after we answer. You may also have email notifications.
Question
I need a new type of mask but don't know which one will work . Are they returnable ?
Answer
Trying a new mask can be hard to do. We do have a mask assurance program if the mask you chose just isn't right. To help try to choose masks with fit packs (all size of cushions) to make it easier. Also, please use the size gauge that comes with each mask on our website. You will find them just below the photo of the mask. Also, feel free to call in and speak to our knowledgeable customer service agents and get their assistance.
Displaying 1 to 1 (of 1 questions)
Result Pages: 1
Compare Similar Products
Warranty
90 days against manufacturer defects
90 days against manufacturer defects
90 days against manufacturer defects
Tube Connection
Front of the face
Front of the face
Front of the face
Mask Type
Nasal Pillow
Nasal Pillow
Nasal Pillow
Headgear Size with Mask
One-size-fits-all
One-size-fits-all Bella Loops
One-size-fits-all
Other Headgear Sizes Available
Other Headgear Styles Available
No
Yes, One-size-fits-all Swift FX For Her (included)
Yes; One-size-fits-all Bella Loops
Specifically Designed For Women
Cushion Interchangeable with Different Type
No
Yes, Swift FX Nano Nasal Cushion
Yes, ResMed Swift FX Nano Nasal Cushion
Frequently Bought Together