Adult Nasal Oxygen Cannula by Sunset Healthcare
The Sunset Adult Oxygen Nasal Cannula is designed for comfort and reliability. The curved nasal prongs reduces nasal irritation and the kink and crush resistant tubing ensures continuous and reliable oxygen delivery. Available in lengths of 7ft, 15ft, and 25ft, this oxygen cannula offers flexibility in mobility, allowing you to move around more freely without worrying about pulling or snagging the tubing. The varied lengths also make it suitable for different environments, whether it is a small apartment or a larger space.
These oxygen cannulas are individually packaged and available in packs of 1, 5, 10 or 25.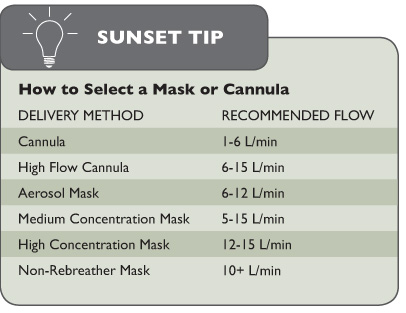 ---
How to Wear a Nasal Cannula
The cannula has two small prongs. Insert into the nostril, with the curved prongs pointing downwards towards the nostrils.
Lift the tubes so that they sit on either side of the nose and carefully fit them over your ears.
Adjust the slider up under the chin to secure the cannula.
---
FAQ
Do you need to worry about kinking?
No, the Nasal Cannula is kink resistant. You will not need to worry about your oxygen flow being interrupted.
Technical Data
Model
RES1107, RES1115, RES1125
Reviews (1)
03/08/2022
Subject: Soft cannula
I ordered 10 soft adult cannula. Nine were correct and one was a regular cannula.
Hi there, the packaging could have been updated or there may have been a shipping error. Please contact us so we can correct this and send out the correct missing item. 866-936-3754. Thank you.
Displaying 1 to 1 (of 1 reviews)
Result Pages: 1
Q&As (1)
Have a question on this item? Ask here and we will answer it in 12-24 hours, usually in a few business hours! Questions and answers will appear here after we answer. You may also have email notifications.
Question
Can the unit be plugged in at night and the continuous option be used with a cpap?
Answer
If I am understanding your question correctly, you're wondering if you can hook up an oxygen concentrator to your CPAP?
If that is the question than yes you definitely can, you would need to get an oxygen enrichment adaptor: https://www.respshop.com/oxygen-concentrators/nasal-cannulas/sunset-healthcare-oxygen-enrichment-adapter-p-817.html

Then you can connect your oxygen at night, and use them both simultaneously together.
Displaying 1 to 1 (of 1 questions)
Result Pages: 1
Frequently Bought Together