Simplus CPAP Mask - Full Face
Designed by Fisher & Paykel, the Simplus Full Face mask was created to perform a perfect seal without causing discomfort during CPAP therapy. Three components control the performance and comfort of the Fisher and Paykel Simplus Full Face mask by working in harmony to improve your sleep apnea therapy. With a RollFit Seal that reduces pressure on the nose, an ErgoForm Headgear that is breathable, incredibly unobtrusive and an Easy Frame that is guaranteed to be durable. The Simplus is the perfect full face CPAP mask for those who are looking for exceptional performance and comfort.

RollFit
The seal is a one-piece seal that rolls along the bridge of the nose, the RollFit Seal will automatically adjust to help reduce pressure on the nose and face. The mask cushion is comfortable and effective, minimizing leaks so that you can expect exceptional performance throughout CPAP use.

ErgoForm Headgear
The F&P Simplus headgear comes with different panels, a stretchable panel and a non-stretchable to help support the mask and head. Resting high on the rear of your head, the headgear is breathable and allows for a maximum amount of movement to each side, and up and down without sacrificing the heal or completely dislodging the mask from your head.

Advanced Air Diffusing Ability
Created with comfort in mind, the air diffused on the Fisher & Paykel Simplus CPAP Mask helps reduce noise and draft, allowing for a peaceful night's rest for you and your partner during CPAP therapy. CPAP machines can be loud, and masks can be disruptive during use, the Simplus Full Face mask is quiet to help relieve the stress of wearing a mask that may affect your sleep apnea therapy.

Easy Frame
A durable frame that provides stability, the frame is small and provides a clear field of vision. The frame is one size fits all and comes with an easy clip attachment that allows for easy assembly before and after cleaning.

Simplus Mask FitPack
Not sure which size you need? Select the FitPack option (one package with all three small, medium, large size cushions). You will be able to find the size that best suits you in the comfort of your own home. This mask will cover your nose and mouth, which is great for people who sleep with their mouths open.
---
Key Features
RollFit Seal - The seal will automatically adjust to form a tight seal without sacrificing comfort

Three adjustment points - Minimal adjustments allow you to quickly fit your mask

Breathable ErgoForm Headgear - Allows for increased movement from other full face CPAP mask
Reviewers Tip:
All CPAP equipment, whether it's your machine, your mask, or your humidifier, need to be cleaned daily. There are wipes and sprays that can be used to help clean your mask, but don't forget the tube which can have calcium buildup and other things that will negatively affect your CPAP therapy. You can purchase a tubing brush in two different sizes that will allow you to wipe out the buildup in your tube without destroying it. If you prefer to hand wash your mask and tube without other accessories, warm water and mild detergents like baby shampoo work best, and always hang both up to air dry.
---
Fisher & Paykel How To Put On the Simplus Mask
Prepare the headgear by spreading it out with your free hand

Lightly hold the cushion and frame over the face. Ensure the seal by checking the cushion covers over the nose and lower lip

Position and fasten the headgear clip to the Simplus Frame

Adjust to the proper fit by tightening or losing the Velcro straps, starting at the crown to and working down to the bottom of the headgear
---
FAQ
Can I use this mask with any CPAP machine?
Yes, manufacturers have standardized the cuff sizes on all CPAP tubes so that your Fisher & Paykel Simplus Full Face CPAP Mask will work on any type of CPAP, APAP, or BiPAP machine no matter what brand of machine you are using.
What sizes are available for the Simplus CPAP Mask?
You can purchase the Fisher & Paykel Simplus CPAP Mask in three different sizes of headgear, small, medium, and large. If you are unsure of what size of mask to purchase, you can purchase mask assurance that will allow you to return an opened mask in 30 days if the mask is an incorrect fit. Your mask should never cause you any type of pain while you are using it.
---
Review By Patty M. CPSGT
Certified Polysomnographic Technician for Respshop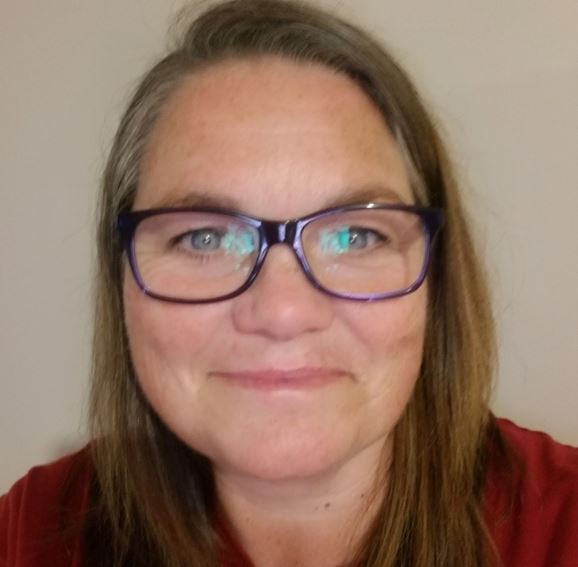 [email protected]
The Simplus is a very comfortable full face mask. The cushion is a soft, smooth silicone with a welcoming feel when put on your face.
The roll fit design of the cushion will not allow you to over-tighten the headgear.
This prevents having too much pressure on the bridge of the nose.
The headgear is soft for comfort but durable for long term use and cleaning.
The height adjustment on top of the head allows the cushion to be pulled up or down as required for the perfect position.
The Simplus is also the quietest full-face mask, giving the sound sensitive user, or bed partner a good night's sleep.
The ball and socket style elbow will keep the hose from tugging and preventing possible leaks.
This mask is available in a fit pack as well, eliminating any insecurities about ordering the correct size.
My clients report the Simplus made the hunt for a comfortable full face mask easy.

Call for Info 866-936-3754
| | |
| --- | --- |
| Model | 400475, 400476, 400477, 400483 |
| HCPCS Code | A7030 |
| Weight | 8 oz |
| Warranty | 30 days |
400483FitPack
Mask Frame
3 Cushion sizes - Small, Medium and Large
Headgear
Selected Mask size
Mask Frame
Selected Cushion size
Headgear
Bennett T
Date Added: 09/07/2021
Rating:
[5 of 5 Stars!]
Date Added: 09/07/2021
Subject: Travel mask
I genuinely think F&P is the best mask brand out there. I've tried countless Resmed and Respironics masks because they're the "biggest" brands for CPAP but I've struggled with so many leaks, discomfort, and bad durability masks that I knew I had to try other brands. F&P doesn't disappoint. Their masks are very durable and comfortable and I like the Simplus mask a lot. I travel a lot for business so I am glad to have found this lightweight mask perfect to bring with my travel CPAP.
The headgear of this mask is definitely my favorite feature. It's easily adjustable/cleanable and easy to fold up and store it. For traveling, it's easy to carry around. The mask is also easy to take apart quickly which makes it easier for me to clean. This mask works very well as a travel mask.
However, just as a word of advice: I'm an average sized guy and the "small" option fit me best, so I would recommend making sure what your measurements are before ordering a mask. I was surprised about my mask size. I think these masks run on the large size, so I recommend sizing down even if you want an "oversized" mask for yourself.
Randy
Date Added: 07/26/2021
Rating:
[5 of 5 Stars!]
Date Added: 07/26/2021
Subject: Comfortable
This mask is very comfortable, and feels sturdy. It also doesn't leak. No complaints to speak of.
Oliver E
Date Added: 07/12/2021
Rating:
[5 of 5 Stars!]
Date Added: 07/12/2021
Subject: No leaks and comforatble
Comfortable mask, I like the simplus a lot. No leaks so far after 3 weeks of using and comfortable mask.
Max A
Date Added: 05/31/2021
Rating:
[4 of 5 Stars!]
Date Added: 05/31/2021
The seal on this mask is definitely very good. It is very stiff and sturdy so the seal keeps very well throughout the night. I would also rate its comfort very high. I think a lot of full face masks aren't very comfortable but this one was definitely better than most.
The only improvement I want to see about the mask is how it's a bit difficult to assemble my mask over and over again especially because it's very easy to fall apart. Whenever I get up temporarily like for using the restroom, my mask feels like it's too fragile to stay together. I wish F&P designed this mask so it's less easy for it to fall apart. It starts getting inconvenient after a while to keep on having to readjust my mask after I take it off for a little bit.
All in all, this is a pretty decent mask if you're looking for a comfortable full face mask. For its cost, I think it's a great value.
Ross C
Date Added: 05/05/2021
Rating:
[5 of 5 Stars!]
Date Added: 05/05/2021
The simplus is a good mask, used it for a few years now and it's held up quite well (although I did have to purchase a replacement recently since I accidentally crushed the bridge bar). It's a pretty simple, straightforward mask that does everything you ask of a mask. A little on the heavy side and the harness/strap system is fairly thorough, so some people might want to opt into something that's lighter/has fewer straps.

As mentioned, the harness is fine and it holds onto my head very well. No problem adjusting it and it's held up well, the straps didn't lose much elasticity. Try to avoid using the Velcro straps a lot though, those never hold up on any mask. I use the quick release clips instead when I can.

The best part of the mask is the standout cushion. The mask almost "rolls" on your face in that the silicon seal part is very pliable. This is a good thing as it means when I shift, the seal forms and holds very well. It feels pretty comfortable too, the material is sufficiently soft. Have had zero leakage issues in the few years I used this mask. The performance and feel of the mask is great overall and I see no reason to switch masks. For the foreseeable future I will continue buying and recommending the simplus.
Brendan H
Date Added: 04/23/2021
Rating:
[5 of 5 Stars!]
Date Added: 04/23/2021
This Simplus mask is Simply a plus (get it?). Terrible dad jokes aside, what I said was true. It really is a great mask for all the right reasons and I recommend it without hesitation.

The design is straightforward. It doesn't revolutionize anything but it does the fundamentals well. The headgear cradles my head well and it has all the standard strap adjustment options. There's a strap across the top with a goggle-style adjustment mechanism, which I could see pressing down on some people's heads. My hair is sufficient cushion however, so I have no issues. The cheek straps clip onto the nose cushion too, which is sufficient for taking it off with ease. Finally, there's a diffuser panel on the cushion which helps quiet down the air exhaust sounds. Should help if you have a partner whose a light-sleeper.

Nose cushion is great, it has the Rollfit mechanism which means the cushion adapts with the contours of your face and shifts itself to stay on optimally. This feels nice as it stays on during the entire night and prevents leakage. I'd highly recommend always getting the fit pack, since it all three cushion sizes so you can get the best fit for you. Tube connector at the front of the mask has a swivel socket so it'll rotate as your hose is repositioned. This means you get a little more control over where your hose lays, helping keep it from sitting on your body.

All in all, a great mask. It does everything right without fuss. Fits well, feels good, doesn't have leakage issues. What more could you want?
Jagan S
Date Added: 03/19/2021
Rating:
[1 of 5 Stars!]
Date Added: 03/19/2021
The silicone is unable to provide an effective seal & air is escaping under the silicone from both sides on my nose just under the bridge.
I am sorry this mask did not work for you. Luckily we do have a mask assurance policy so be sure to contact us directly so we can get this resolved.
James K
Date Added: 03/04/2021
Rating:
[5 of 5 Stars!]
Date Added: 03/04/2021
awesome to use comfortable easy to use easy to keep clean warm mild water few drops of Dawn soap. I will order a back up. prices affordable
watson w
Date Added: 10/02/2020
Rating:
[5 of 5 Stars!]
Date Added: 10/02/2020
This is a convenient way to order. I used to order these items separately. I'm glad that I don't have to any longer.
Clarice K
Date Added: 05/27/2019
Rating:
[4 of 5 Stars!]
Date Added: 05/27/2019
Fits very well. Sometimes need a little tweaking as expected. Would order again.
Jackie F
Date Added: 04/11/2019
Rating:
[5 of 5 Stars!]
Date Added: 04/11/2019
More comfortable than what I was use to. Works well with not interrupting movements. Very pleased with this mask
Connie T
Date Added: 04/13/2018
Rating:
[5 of 5 Stars!]
Date Added: 04/13/2018
I Have received the mask but was somewhat annoyed as when I placed the order I received a email saying order not completed, I then did again and instead of PayPal paid with American Express.
Next thing I find that payment from PayPal was made but also money from my American Express card was taken, hence I paid twice and received 2 masks.
I Ordered medium but really should have gotten small so sadly I have 2 not very good fitting masks.
Overal I am happy with the product just didn't need two and postage to expensive to exchange one of them for smaller size.
Brian F
Date Added: 12/13/2017
Rating:
[3 of 5 Stars!]
Date Added: 12/13/2017
Fits very good and is very comfortable but leaks around the bridge of my nose.
Doug M
Date Added: 11/22/2017
Rating:
[5 of 5 Stars!]
Date Added: 11/22/2017
This is best mask ever ,I need high pressure full face and the seal is great, I have used lots of other masks and they last for a few months then leak
This mask is 4 yrs. old and still going . Highly recommend
Kristen D
Date Added: 11/18/2016
Rating:
[5 of 5 Stars!]
Date Added: 11/18/2016
I tried several masks and this mask is wonderful! It works great with high pressure.
Frankie S
Date Added: 06/29/2016
Rating:
[4 of 5 Stars!]
Date Added: 06/29/2016
I would say I have enjoyed this mask for 3 months now . Headband Velcro straps stay tight. Just seems always adjusting to minimize leaks . Headband is ok . Sometimes leaks when lay on side and yawn . Would rate 3.5 and if all I could afford I would purchase it again . Upgrading to Quattro so keep you posted
CHUNG C
Date Added: 01/23/2016
Rating:
[5 of 5 Stars!]
Date Added: 01/23/2016
ICON Auto CPAP Machine with Built-In Heated Humidifier and ThermoSmart Heated Hose by Fisher and Paykel takes features from the SleepStyle line of CPAP machines and combined them to enhance patient comfort and provide a personalized treatment system. ThermoSmart Technology makes Fisher & Paykel a leader in humidification.

Simplus CPAP Full Face Mask with Headgear

GOOD, AND FOR SALE
tyson f
Date Added: 08/28/2014
Rating:
[3 of 5 Stars!]
Date Added: 08/28/2014
I bought this mask because I wanted to try something different from the norm(turns out everybody does this) I had purchased the Icon Auto CPAP and enjoyed the dual cpap-humidifier combo that it came in so I decided to buy the F&P mask to along with machine(thinking nobody else did this) I believe it was a great choice at first and I love this company dearly but the mask was only good for the first 2-3 weeks. Thereafter the mask started to breakdown on me. The quality of this mask does not match up well to the machine.
Alicia C
Date Added: 07/09/2014
Rating:
[4 of 5 Stars!]
Date Added: 07/09/2014
Kind of a heavy mask compared to others that I have used in the past, but the seal is very good and the cushion is fairly comfortable.

More important than anything else with me is that the seal works, because I have had masks with bad seals, and my therapy has not been good, wake up tired, sluggish during the day. I will deal with the bulkiness of the mask because of the seal!
Have a question on this item? Ask here and we will answer it in 12-24 hours, usually in a few business hours! Questions and answers will appear here after we answer. You may also have email notifications.
Q:
Can I order just the easy frame
(Asked on 05/02/2021)
A:
The frame is not sold separately.