Simplus Full Face CPAP Mask by Fisher & Paykel
Designed by Fisher & Paykel, the Simplus Full Face mask is engineered to deliver long-lasting comfort and a superior seal. The Simplus features three key elements – the RollFit Seal, the ErgoForm Headgear, and the Easy Frame – which work together to give you a more comfortable night's sleep. The RollFit Seal reduces pressure on the nose, the ErgoForm Headgear improves stability and breathability, and the Easy Frame provides a durable base to hold the mask together. These innovations make the Simplus an exceptionally comfortable full-face mask.

RollFit Seal
A one-piece seal that rolls along the bridge of the nose, the RollFit Seal automatically adjusts to movement, which reduces pressure on the nose and face. The mask cushion is comfortable and effective, minimizing leaks during CPAP use.

ErgoForm Headgear
The Fisher & Paykel Simplus headgear is constructed with two different panels – a stretchable panel and a non-stretchable one – to help support the mask and head. The breathable ErgoForm Headgear allows for maximum up-down and side-to-side head movement without sacrificing the seal. An adjustable strap on top of the crown adds even more stability for optimal performance.

Advanced Air Diffusing Ability
Created with comfort in mind, the air diffuser on the Fisher & Paykel Simplus CPAP Mask reduces noise and draft, allowing for a peaceful night's rest for you and your partner. If you dread using your CPAP because of how loud and disruptive it is, we suggest you give the Simplus a try. You'll be surprised at how much quieter therapy can be with a well-designed mask.

Easy Frame
The durable, low-profile Easy Frame provides stability and an open field of vision which helps reduce feelings of claustrophobia. The frame is one-size-fits-all and comes with an easy clip attachment for easy disassembly and assembly before and after cleaning.

FitPack Sizing Convenience
Not sure which cushion size you need? Select the FitPack option and receive the Simplus Full Face Mask with a medium/large headgear and cushions in all three sizes: small, medium, and large. The FitPack takes the guesswork out of sizing by giving you the opportunity to try on all available cushion sizes in the comfort of your own home.
Reviewer's Tips
All CPAP equipment, whether it's your machine, your mask, or your humidifier, needs regular maintenance. Wipes and sprays can be used to clean your mask, but your CPAP tube will need some soapy water and a hose brush for a thorough cleaning.

A tube brush helps you scrub out the inside of your CPAP tube for that deep clean. Make sure you choose the right size brush for your tube. If your brush is too big for the tube, you'll have a hard time moving it back and forth inside the tube!

If you prefer to hand wash your mask along with your CPAP tubing, we recommend using mild detergents, such as baby shampoo. Remember to let your mask and tubing air dry away from direct sunlight. You can hang up your CPAP tubing to speed up the drying process.
---
How to Put On the Simplus Mask
Hold the cushion over your nose and mouth with one hand. The bottom of the cushion should rest just below the lower lip, in the cleft midway between the lower lip and chin.
While holding the cushion over your face, pull the headgear over your head with the other hand.
Keep one hand on the cushion to hold it in place while you fasten one of the clips to the frame. Repeat with the other clip.
Adjust your fit by tightening or loosening the velcro straps, starting at the crown and working down to the bottom of the headgear.
---
FAQ
What machines are compatible with the Simplus?
The Simplus Full Face Mask is compatible with all CPAP and BiPAP machines with a standard 22mm connection.
What sizes are available for the Simplus Full Face Mask?
You can purchase the Fisher & Paykel Simplus CPAP Mask in three different cushion sizes: small, medium, and large. Medium and large cushions come with the medium/large headgear while the small cushion comes with the small headgear. If you are unsure what size cushion to choose, you can select the FitPack to try on all three cushion sizes at home.
---
Review By Patty M. CPSGT
Certified Polysomnographic Technician for Respshop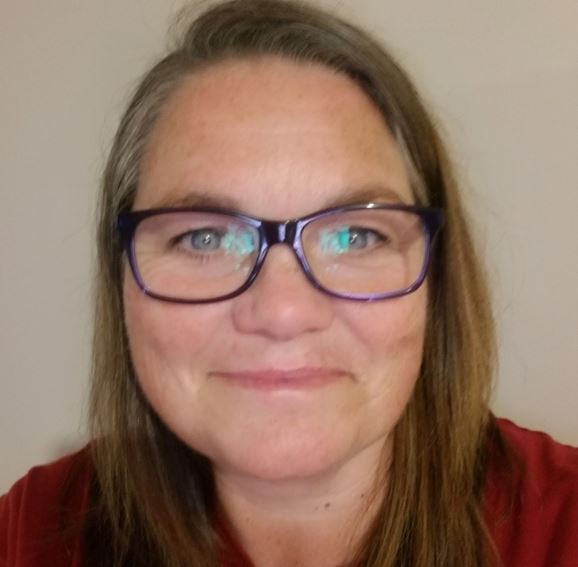 The Simplus is a very comfortable full-face mask. The cushion is a soft, smooth silicone with a welcoming feel when put on your face. The RollFit design of the cushion will not allow you to over tighten the headgear which prevents the mask from putting too much pressure on the bridge of the nose.

The headgear is soft for comfort but durable for long-term use and cleaning. The height adjustment on top of the head allows for the cushion to be pulled up or down as required for the perfect position.

The Simplus is also a very quiet full-face mask that gives the sound-sensitive user or bed partner a good night's sleep. The ball-and-socket style elbow keeps the hose from tugging down on the mask, preventing possible leaks.

This mask is available in a fit pack, as well, eliminating any insecurities about ordering the correct size. My clients report that the Simplus made the hunt for a comfortable full-face mask so easy.

For more information on the Simplus Full Face Mask or any other CPAP related question, contact us at 866-936-3754.
Technical Data
Fisher and Paykel Mask Guide

Download

Fisher and Paykel Simplus Specs

Download

Fisher and Paykel Simplus Disinfection Guide

Download
Model
400475, 400476, 400477, 400483
Warranty
90 days against manufacturer defects
Tube Connection
Front of the face
Headgear Clips and Type
Yes, nonmagnetic clips
Headgear Size with Mask
Medium/Large
Other Headgear Sizes Available
Yes, Small
Other Headgear Styles Available
No
Specifically Designed For Women
No
Cushion Interchangeable with Different Type
No
Manufacturer
Fisher & Paykel
Mask with Headgear Weight
8 oz
Item Includes
400483 FitPack:
1x Frame
3x Cushions (small, medium, and large)
1x M/L Headgear
2x Headgear Clips
Mask in the selected size:
1 Frame
1x Cushion in the selected size
1x Headgear (M/L Headgear for medium and large cushions; Small Headgear for small cushion)
2x Headgear Clips
Reviews (20)
4.4
Based on 20 reviews
03/19/2021
The silicone is unable to provide an effective seal & air is escaping under the silicone from both sides on my nose just under the bridge.
I am sorry this mask did not work for you. Luckily we do have a mask assurance policy so be sure to contact us directly so we can get this resolved.
11/22/2017
This is best mask ever ,I need high pressure full face and the seal is great, I have used lots of other masks and they last for a few months then leak
This mask is 4 yrs. old and still going . Highly recommend
03/04/2021
awesome to use comfortable easy to use easy to keep clean warm mild water few drops of Dawn soap. I will order a back up. prices affordable
watson w
(Verified Purchase)
10/02/2020
10/02/2020
This is a convenient way to order. I used to order these items separately. I'm glad that I don't have to any longer.
04/11/2019
More comfortable than what I was use to. Works well with not interrupting movements. Very pleased with this mask
07/12/2021
Subject: No leaks and comforatble
Comfortable mask, I like the simplus a lot. No leaks so far after 3 weeks of using and comfortable mask.
07/26/2021
Subject: Comfortable
This mask is very comfortable, and feels sturdy. It also doesn't leak. No complaints to speak of.
Kristen D
(Verified Purchase)
11/18/2016
11/18/2016
I tried several masks and this mask is wonderful! It works great with high pressure.
Clarice K
(Verified Purchase)
05/27/2019
05/27/2019
Fits very well. Sometimes need a little tweaking as expected. Would order again.
12/13/2017
Fits very good and is very comfortable but leaks around the bridge of my nose.
Q&As (1)
Have a question on this item? Ask here and we will answer it in 12-24 hours, usually in a few business hours! Questions and answers will appear here after we answer. You may also have email notifications.
Question
Can I order just the easy frame
Answer
The frame is not sold separately.
Displaying 1 to 1 (of 1 questions)
Result Pages: 1
Compare Similar Products
Warranty
90 days against manufacturer defects
90 days against manufacturer defects
90 days against manufacturer defects
Tube Connection
Front of the face
Front of the face
Front of the face
Mask Type
Full Face
Full Face
Full Face
Manufacturer
Fisher & Paykel
Fisher & Paykel
ResMed
Headgear Clips and Type
Yes, nonmagnetic clips
Yes, nonmagnetic clips
Yes, magnetic clips
Headgear Size with Mask
Medium/Large
Medium/Large
Standard
Other Headgear Sizes Available
Yes, Small
Yes, Small
Yes, Small and Large
Other Headgear Styles Available
Specifically Designed For Women
Cushion Interchangeable with Different Type
No
No
Yes, ResMed AirTouch F20 Full Face Cushion
Frequently Bought Together