You may also like
---
AirFit F20 Full Face CPAP Mask by ResMed
Key Features:
Magnetic clips - hassle-free mask removal and reattachment without compromising fit
Quick-release elbow - disconnect mask from CPAP hose without removing the mask
InfinitySeal cushion - minimizes leaks and blow-outs even at high pressures
Open-faced design - lack of an obstructive forehead support allows users to watch TV or read before sleep
Flexible and compact frame - opens up the field of view, reducing feelings of claustrophobia
Modular design - interchange the AirFit F20 silicone cushion with the AirTouch F20 foam cushion
Whisper quiet - QuietAir Vent diffuser reduces operation noise to just 21 decibels
InfinitySeal Cushion
The AirFit F20 InfinitySeal cushion is designed to accommodate a wide range of facial structures and to provide a secure seal under varying pressure levels. The cushion's sophisticated engineering offers significant support around the nose, which effectively reduces the occurrence of disruptive mask leaks and blow-outs, contributing to a better sleep experience. With the AirFit F20 cushion, users can experience a comfortable and effective therapy session, ensuring a good night's sleep.
Plush Headgear and Magnetic Clips
The AirFit F20 headgear is designed for ultimate comfort and stability, no matter the sleeping position. The flexible headgear's four-way adjustable design ensures it stays put all night long, which minimizes readjustments and interruptions to your sleep.

Additionally, the magnetic headgear clips provide an effortless and convenient way to attach the headgear to the frame, making it easy to put on and take off the mask. This feature allows for quick and hassle-free removal and reattachment of the mask without readjusting the headgear, compromising that perfect fit.

Note: If you have a metallic medical implant, such as a pacemaker, defibrillator, etc., we recommend choosing a mask that does not use magnetic clips.
Quick-Release Elbow for Ultimate Convenience
The AirFit F20 Full Face Mask features a specially designed quick-release elbow that offers unparalleled convenience. This innovative feature allows users to disconnect the mask from the CPAP hose without removing the mask itself, providing a hassle-free experience when you need to get up during the night.

Simply squeeze the sides of the quick-release elbow to detach it, along with your CPAP hose, from the front of the AirFit F20. Upon your return to bed, you can quickly reconnect the elbow to the front of the mask by pushing the quick-release elbow in until you hear an audible click. The AirFit F20's quick-release elbow eliminates the need to readjust any straps or components so users can minimize interruptions to their sleep apnea treatment.
Flexible, Open-Faced Frame
Shaped like adaptive wings, the F20 mask frame runs along the cheeks and extends up the sides of the forehead. This innovative design allows ResMed to eliminate the forehead support bar without compromising mask seal, providing users with an open field of view which not only reduces feelings of claustrophobia, but also makes it possible to watch TV or read before bed.
Whisper Quiet Operation
ResMed's F20 CPAP mask features innovative QuietAir Vent technology which reduces operation noise to an impressively low 21 decibels that is truly "whisper quiet." A ring of small ports on the mask's quick-release elbow gently disperses exhaled air away from the user and bed partner, minimizing noise and draft to prevent unpleasant awakenings.
Multiple Headgear and Cushion Sizes Available
The ResMed AirFit F20 Full Face Mask is available in three cushion sizes - Small, Medium and Large. All three cushion sizes come with a Standard sized headgear. ResMed also offers Small and Large headgear sizes which are available separately.

First-time AirFit F20 users should consider using the AirFit F20 Sizing Gauge to determine their cushion size as CPAP mask cushion sizes are not identical across manufacturers. The Sizing Gauge can be found under the "Size Gauge" tab on this webpage. For accurate sizing, please ensure the Sizing Gauge is printed to scale and the measurement is taken with the aid of a mirror or a second pair of eyes.
Interchangeable Cushions
The AirFit F20 Full Face Mask is also compatible with ResMed's AirTouch F20 Memory Foam Cushion which offers a light, breathable seal and ultra-soft performance.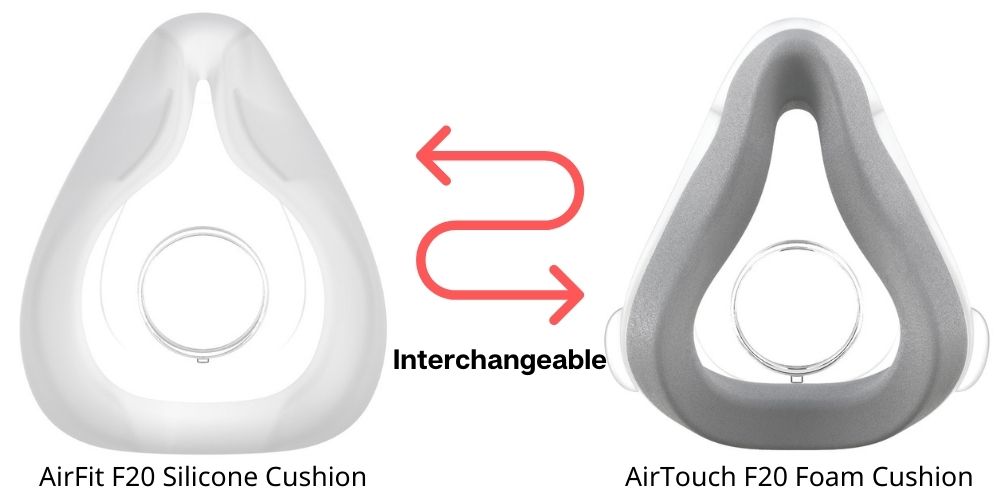 Note: The AirFit F20 Mask Frame is compatible with all sizes of AirFit/AirTouch F20 Cushions.
FAQ
How often should I replace the AirFit F20 Full Face Mask?
The F20 mask frame, elbow and headgear should be replaced every 6 months while the AirFit F20 silicone cushion should be replaced every 2 to 3 months. We encourage more frequent cushion replacements compared to other mask parts because the silicone softens with use (i.e., from contact with face oils, dead skin cells etc.) which inevitably compromises mask seal.
How do I clean the ResMed AirFit F20 mask?
Daily: cushion
Weekly: frame, elbow, headgear

Disassemble the mask before cleaning and hand wash all parts with mild soap and water. Use a soft bristle brush to gently scrub the vent ports on the quick-release elbow. Rinse each part thoroughly under running water and air dry away from direct sunlight. Squeeze excess water out from the headgear before laying it flat to air dry.

Regular mask cleaning helps control bacterial growth and prolongs the lifespan of the silicone cushion. CPAP wipes can be used in place of soap and water for quicker, hassle-free mask maintenance.
How do I determine what size cushion I need for the AirFit F20 mask?
Please use the Sizing Gauge that is available under the "Size Gauge" tab above to determine your cushion size.
How do I disassemble/assemble the AirFit F20 mask?
Disassembly:
Remove the elbow from the frame.
Unclip the magnetic clips from the frame.
Undo upper and lower headgear tabs.
Pull the headgear away from the frame and slide the magnetic clips off the headgear straps.
Pull the cushion away from the frame by holding the frame in one hand and the hard plastic portion of the cushion in the other. If your mask has never been disassembled, you will need to exert some force to pull the cushion off.
Assembly:
Attach the cushion to the frame by lining up the circular opening on the cushion to the frame and pushing until the pieces are connected.
Thread the magnetic clips onto the bottom headgear straps. Fold over the straps to secure the Velcro.
Thread the upper headgear straps through the slots in the frame. Fold the Velcro tabs over to secure.
Push the elbow into the front of the mask until an audible click is heard.
What is the difference between the AirFit F20 and AirTouch F20 masks?
| | | |
| --- | --- | --- |
| Mask Components | AirFit F20 | AirTouch F20 |
| Frame | One size fits all 3 size cushions | Same AirFit F20 frame |
| Cushion | InfinitySeal silicone | UltraSoft memory foam |
| Elbow | Quick-release hard plastic | Same as AirFit F20 elbow |
| Headgear | Breathable, comfortable, and stable with magnetic clips | Same as AirFit F20 headgear |
| | |
| --- | --- |
| Model | 63400, 63401, 63402, 63450 |
| HCPCS Code | A7030 |
| Manufacturer | ResMed |
| Warranty | 90 days against manufacturer defects |
| Tube Connection | Front of the face |
| Mask Type | Full Face |
| Headgear Clips and Type | Yes, magnetic clips |
| Headgear Size with Mask | Standard |
| Other Headgear Sizes Available | Yes, Small and Large |
| Other Headgear Styles Available | No |
| FitPack Available | No |
| Active Sleeper | Yes |
| Stomach Sleeper | No |
| Glasses Friendly | No |
| Claustrophobic | No |
| Specifically Designed For Women | No |
| Facial Hair | Yes |
| Cushion Interchangeable with Different Type | Yes, ResMed AirTouch F20 Full Face Cushion |
| Extra Features | Pressure Range: 4-40 cm H2O |
AirFit F20 Full Face Mask in the selected size includes:
Frame
Standard Headgear (63471)
1 pair of Magnetic Headgear Clips (63475)
Quick-Release Elbow with Swivel (63494)
Cushion in the selected size: Small (63467), Medium (63468) or Large (63469)
User Manual
3.9
Based on 38 reviews
11/16/2019
Great equipment no air leaks and I'm sleeping much better at night I look forward to doing business with you in the near future on all my replacement parts. My last mask always leaked and I never really benefitted from it's intended use
Cliford G
(Verified Purchase)
02/19/2018
02/19/2018
This is the best fitting cpap mask that I have found with the fewest air leaks but still have to adjust it tighter than I would like to stop the air leaks. Loosning the mask to a comfortable fit breaks the seal completely.
04/20/2020
wore it for 3 nites and the seal ripped rendering this $145 useless would not buy from this site again
We are SO SORRY to hear this! Please contact us so we can resolve your issue.
Susan@respshop.com
Frank R
(Verified Purchase)
01/14/2022
01/14/2022
Subject: Premium headgear
I have had problems in the past with other headgear wearing out before my insurance would replace. This headgear holds everything in place better and lasts longer than the replacement period.
07/19/2021
Subject: air fit f20 full face mask
the straps are uncomfortable on back of head in neck area. you would think the manufacturer would put the padded cushions, on strap instead of making them an extra, besides that all is good.
08/05/2022
Subject: ResMed AirFit F20 Full Face Mask
This mask is good for someone with sleep apnea who is a mouth breather and needs a full face mask. It does have some mask leaks if not clean shaven and if you are a side sleeper.
Melina M
(Verified Purchase)
04/01/2021
04/01/2021
this is the mask I love the other one I ordered I had a allergic reaction too but this mask the AirfitF20 full face mask is awesome no complaints here.
05/23/2022
Subject: Very pleased
I am very pleased with the quality of the product I received and the fact it was sent promptly. The price was very competitive also.
Stapleton S
(Verified Purchase)
11/11/2020
11/11/2020
This fits really comfortably. My only issue was that they were out of the extra free face cushion for the large size mask I ordered.
David N
(Verified Purchase)
06/27/2022
06/27/2022
Subject: AirFit F20 Full Face Mask
Great fit and comfortable. Very reasonably priced! Item was delivered in just a few days!
Have a question on this item? Ask here and we will answer it in 12-24 hours, usually in a few business hours! Questions and answers will appear here after we answer. You may also have email notifications.
Question
Does this mask make you feel claustrophobic?
Answer
Everyone's response to a full face mask is different. That is why there are so many to choose from. Give us a call and we will be happy to discuss masks with you.
Question
What is the difference in size for ResMed small Airfit 20 and the small Airfit 20 for her?
Answer
For Her masks have a slightly smaller headgear and are a different color.
Question
Will this fit my airsense 10
Question
I'm having it very very hard to find a full face mask I can wear. I love the Airfit 20 ( memory foam) but I need an XS.
Where can I find a mask that would work as well
Thank you
Answer
I am sorry this mask only comes in a small. There is not an xsmall at this time available.
Question
How are the straps attatched to the mask, I have a full mask and the clips, clip on and sometimes my hands don't work too well,,
Answer
Here is a great video that will show how to put the mask headgear together. https://youtu.be/79oepq4iyKU Thank you
Question
I use AirFit F20 full face mask. During sleep there is air leak which in turn leads to very parched dry mouth, I believe, and disrupts sleep. Would AirTouch with foam mitigate or eliminate this problem? Thank you.
Answer
Hi there, if you are already wearing a full face mask the airtouch would not mitigate leak. It helps with sensitive skin. I would suggest a few things. Ensuring the mask is being washed. Ensure the mask size is correct, the top of the mask should sit on the bridge of your nose and the bottom of the mask just under your lower lip. If you do have facial hair you want to ensure that you are shaving, facial hair will not create a seal on the face. Also ensure the mask is adjusted and tightened evenly around, you want to be able to fit two fingers under your strap and if you cant it might be too tight.
Displaying 1 to 6 (of 6 questions)
Result Pages: 1